Many people seem to believe that all pour-over coffee makers results in the same coffee brew. That's not true. The design of the coffee pot will actually affect how it taste, and that's what we're here to talk about in this post. We're comparing the relatively new Bodum's Pour-over to the most popular pour-over maker out there, the holy Chemex.
Bodum Pour Over Coffee Maker: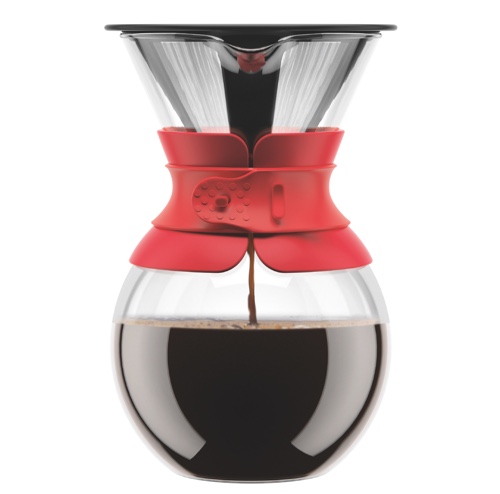 Bodum is known for its beautiful design and aesthetics. This is true to everything they create, including their pour-over coffee maker:
Made from mouth-blown borosilicate glass.
34 oz capacity,
Wrapped with a silicone sleeve that is available in many different colors.
Includes a permanent stainless steel mesh filter. Do not use paper filters.
Also includes a lid for the pot.
It's dishwasher safe.
Chemex Pour Over Coffee Maker: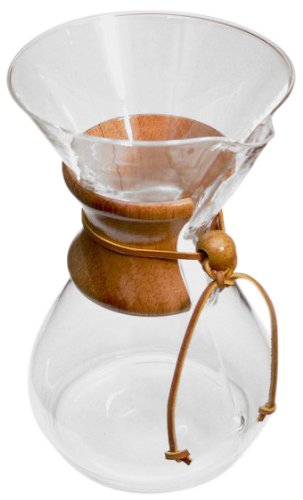 Available in 3-cups, 6-cups, 8-cups and 10 cups capacities.
Made from glass with polished wooden collar and a leather wrap.
Requires Chemex paper filters which are designed to fit it perfectly.
Will not work with permanent filters.
Pot lid sold separately.
Bodum or Chemex, Which Is Right For You?
Design:
The Bodum design features a wider neck than the Chemex. This makes it mostly compatible with its own permanent filter and not paper filters. The mesh filter is very fine, so you'll have to use just the right grind to get your coffee to taste the way you want it. Using a very fine grind for example (which is wrong for pour-over), will result for the coffee to go through quickly, which will result in a very  light brew. If you'd like to slow the brewing process, you could be able to fit a paper filter on top of the permanent filter which will help make the steeping process longer.
On the other hand, the Chemex only uses paper filters that is made by Chemex. These filters are heavier than most coffee filters, this allows the coffee ground to steep for a longer time, resulting in a stronger cup of coffee. Also because the neck on the Chemex is smaller, it drips slower than with the Bodum.
There are two kinds of Chemex, only one of them is made of Hand Blown glass. The hand blown is more expensive than both the Bodum and cast glass Chemex.
Included Accessories:
Although the Bodum is slightly more expensive, it includes everything you need with it: a permanent filter, a coffee scoop, a lid.
The Chemex doesn't include any accessories with it. Your ongoing expense will be buying the filters which are sold in a box of 100 filters for around $10 to $15.
Watch The Following Videos:
Unboxing of the Bodum Pour Over:

How To Brew Using Bodum Pour Over:

How To Use a Chemex Pour Over:

Which One To Buy?
The majority of pour-over lovers swear by Chemex, and we cannot disagree. Chemex does produce an aromatic and crisp cup of coffee. But that doesn't mean that the Bodum isn't a good one, it's just newer to the scene.
If you prefer a stronger cup of coffee, you should definitely go with the Chemex which has a longer steep time.
If you enjoy a lighter cup, you'll like what the Bodum Pour Over can make you.
If you're most concerned with the quality of the coffee pot itself, the Bodum gives you a higher quality of mouth blown borosilicate glass for a friction of the price of the hand blown borosilicate Chemex. However, the cast glass Chemex is cheaper but the glass is not as good as Bodum's.