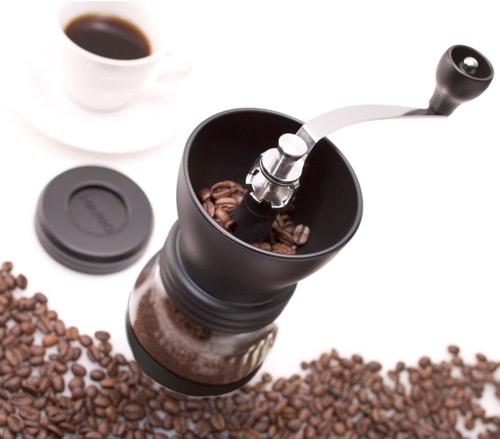 We've often talked about the importance of using freshly ground coffee for the best tasting cup of coffee. We've also mentioned the benefits of using a conical burr grinder instead of an old school blade grinder that only results in harsh and bitter tasting coffee. There's a number of many great electric conical burrs, but there's also manual ones.
Why Buy a Manual Conical Burr Grinder?
If you're short on counter space- it does not take any space and can be stored in any cupboard.
If you're often on the go- a manual grinder is very portable and can be taken on the road wherever you go.
If you're on a tight budget and can't afford an electric conical burr, a manual one should work great for you. They're often under $30, so they're very budget-friendly as long as you accept the, well- manual, working that comes with it.
What Type of Coffee Can You Grind with a Manual Grinder?
You can grind any type of coffee beans for any brewing methods including french press, espresso, drip, or pour-over. Because you have the option to adjust the grind fineness, you'll find manual grinders to be very versatile. Some people even use them to grind spices, however, we do NOT recommend using the same grinder for spices and coffee, that would result in terrible tasting coffee.
Which Manual Burr Grinder To Buy?
Here are our recommendations for the best rated manual coffee mills/burr grinders:
Hario Skerton Ceramic Coffee Mill:
Manual conical burr grinder with ceramic burr.
Glass grinding chamber with silicone covered bottom for stability while grinding.
100 grams capacity.
Adjustable grind settings.
Dishwasher safe.
Hario Mini Slim Ceramic Grinder: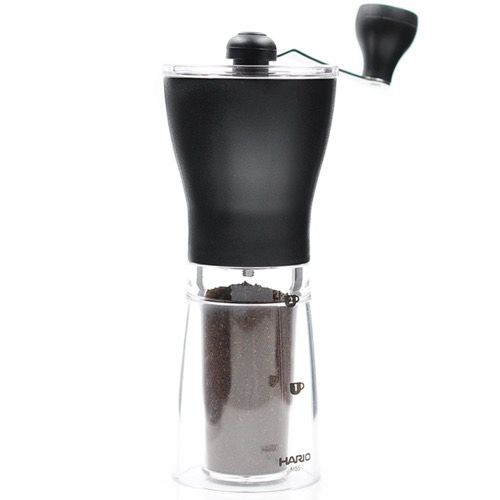 Tall and slim design for easy storage.
Can be stored without the handle.
Ceramic burr.
Yields in about 24g to 30g to coffee.
Adjustable grind settings.
Plastic yet durable grind chamber.
Porlex Stainless Steel Coffee Grinder: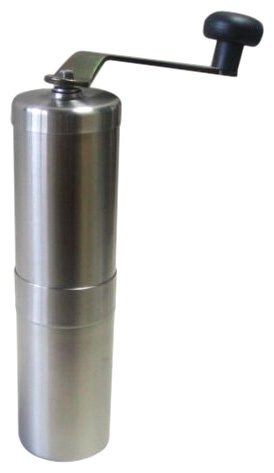 Ceramic conical burr with adjustable settings.
Stainless steel body. Static-free, does not results in jumping coffee ground.
Slim design.
30 gram capacity.
Comparisons:
Hario Skerton vs. Mini: Which One to Choose?
The Hario Skerton:
Best for someone who makes larger capacity of coffee at a time. The chamber of this grinder is the largest.
Doesn't mind that it takes more space than other grinders.
Adjusting the grinding settings on the Skerton is a bit of a hassle. It requires unscrewing and detaching the crank then adjusting the grind. If you need to readjust often, this will be a downside for you.
The glass grind chamber is a plus.
The Hario Mini:
Very small in size in comparison to the Skerton, it is only 2″ wide.
Its parts are easily detached for thorough cleaning.
Readjusting the grind fineness is much easier on the Mini. Its a one step operation and can be done from underneath the chamber.
On the downside, it has smaller capacity, 30 grams if you really push it.
The body of the grinder is plastic, however it is the durable kind and it's not expected to be broken easily.
Any Downside to the Porlex Grinder?
The only thing we don't like about the Porlex is that it lacks a window to show you how your grind is going.
Video Reviews:
Watch the grinders in action…
Review of the Hario Skerton:

How To Use the Hario Mini Mill:

How To use a Porlex Grinder:

Conclusion:
Manual hand grinders are really a great tool to have if you're looking for an inexpensive way to have fresh coffee. However, like the majority of manual grinder users, you eventually get tired of the work involved. If you've watched the videos above, you now have an idea that they give you quite an arm exercise (this could be a plus, actually!). But if you're having many cups of coffee per day and you'll have to go through the grinding process many times, you will really get tired of it and you will consider an electric grinder instead. We do recommend you have a hand grinder for traveling, but for everyday use, you're better of with an electric. See our favorites by clicking here.