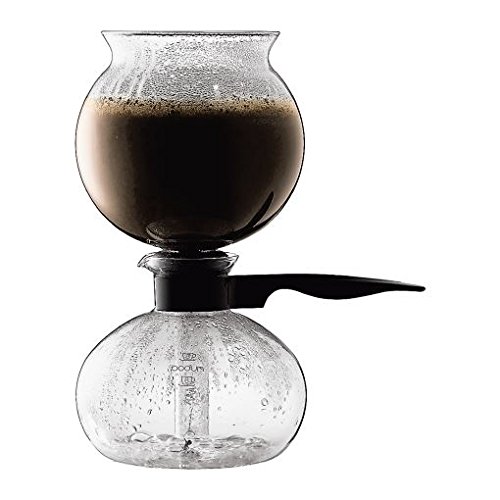 As a fan of Vacuum coffee brewing method, you've probably came across Bodum's Pebo coffee maker. You might have also seen the Santos, also by Bodum, which is also a Vacuum brewer that looks exactly like Pebo.
Is Bodum trying to confuse you in some way? What is the difference between Pebo and Santos and why do they look identical?
Let's start by confirming that Bodum only means well. Pebo and Santos are the exact same product, they've only decided to change the name from Santos to Pebo but everything else remains the same. As it's a excellent vacuum coffee maker, no changes are needed to the design, and whether you buy it under the name Santos or Pebo, you're getting the excellent Bodum has built into this product.
Here are the features of Pebo Vacuum Coffee Maker:
34-ounce coffee maker. Can make up to 8 cups at a time.
Designed to extract all oils from coffee, resulting in an exceptional taste.
The vacuum brewing process is entirely sealed off so no aroma can escape.
Brewing time takes 4 to 11 minutes, depending on the amount brewed.
Brewing time is calibrated with temperature to ensure the best brew every time.
Made of heat-resistant, durable glass.
Dishwasher safe.
Included with your purchase: coffee scoop and resting stand.
What Kind of Heat Source Can the Bodum Pebo (Santos) Be Used With?
According to its manual, the Pebo coffee maker can be used with a gas or electric stovetop. An alcohol burner can be used as well. When using a gas stove, a heat diffuser is not required, but it is recommended. Unfortunately, it will not work with an induction cook top.
How To Use Bodum Pebo Coffee Maker:
Pebo doesn't only make you a delicious cup of coffee, but it's also quite entertaining to watch. Gather your friends around the stove and watch their reactions over how it works. Here's a video that explains the process:
Note: Grinder used in the video is the Bodum Bistro conical burr and the glass is bodum's Pavina double-wall glass.
Bodum Santos vs. Yama Glass Siphon Coffee Maker: Which Is Best?
Both Bodum's Santos (or Pebo) and Yama's Glass make great budget-friendly vacuum coffee makers. The Yama coffee maker works exactly like the Santos, the differences are all in the design:
Yama has a 40 oz capacity, but it also advertised to make 8 cups like the Santos. Also available as 22 oz (5 cups).
The handle on the Yama is different in design than Bodum's. So you should consider which design would be more comfortable for you to handle.
It works on gas and electric stove tops, and it includes a wire diffuser for use with electric tops.
It also includes a cloth filter and a coffee scoop.
The lid on the Yama doubles as a holder.
It is dishwasher and microwave safe.
Should You Choose Bodum or Yama?
This is a tough one to choose as we see no difference in the process of making the coffee. Your choice will most likely be based on price and the design itself.
Here's a video of the Yama Glass coffee maker in action: