In this post: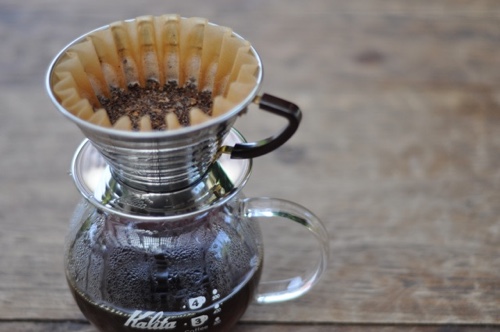 What Is Kalita Wave And What Makes It Different?
Kalita Wave is one of many pour-over coffee brewers that is preferred by fans of specialty coffee and manual coffee brewing. Available in two sizes and three type of materials (Ceramic, Glass or Stainless Steel), Kalita Wave offers something for everyone.
What differentiates Kalita Wave than other pour-over drippers is its design. Unlike other drippers, the Wave is flat-bottomed, which gives you a more even extraction of coffee.  It also uses a specially designed paper filter that reduces the contact between the brewing space and the dripper, giving you a fuller flavor.
Types of Kalita Wave Drippers: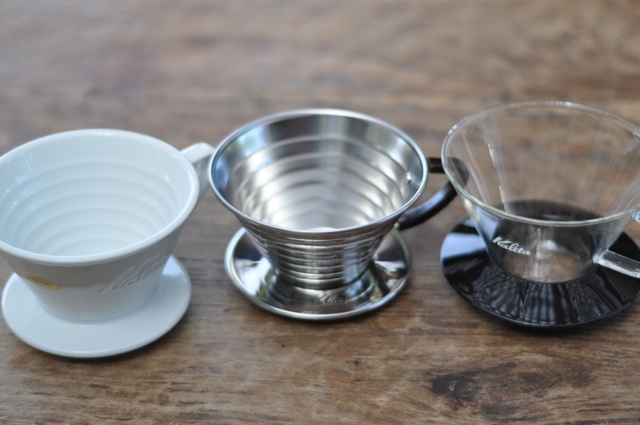 As we mentioned, the Kalita Wave dripper is available in three different types: ceramic, stainless steel and glass. Is there a difference between these three materials?
The first difference is aesthetics only. They all look pretty great but you could prefer one to another only based on looks.
There's also heat-retention, the stainless steel supposedly keeps heat the most, followed by the ceramic then glass. But this does not affect the brewed coffee much.
Price wise, the glass is the cheapest, but also it's the most fragile and needs to be handled with care. The stainless steel dripper should be the most efficient.
When it comes to performance and how they brew, all three models work exactly the same.
Kalita Wave Sizes – #155 vs. #185:
Kalita labels its sizes with #155 and #185. The #155 is suitable for 1 to 2 cups, while the #185 is suitable for 3 to 4 cups.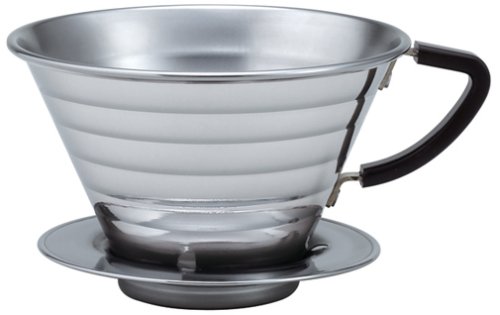 Comparing Kalita Wave to Other Pour Over Drippers:
Kalita Wave vs. Hario V60: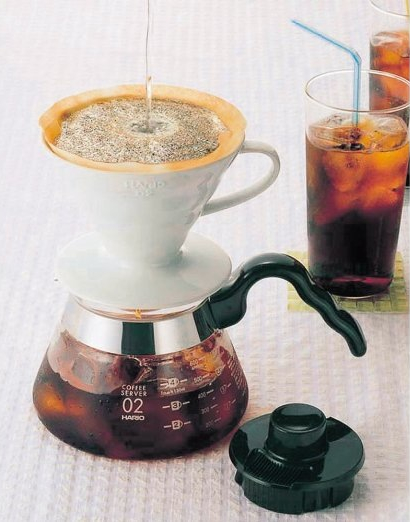 The Hario V60 is the most popular pour-over dripper out there. It's been available for ages (probably why it's the most popular), and has been tested, tried and loved by many. How is it different than the Kalita Wave?
Design:
Hario V60 using a smaller hole at the bottom, this is your typical design for a pour-over dripper.
The Wave uses a one-of-a-kind flat bottom that distributes and drips the coffee more evenly than other drippers.
Materials:
The Hario V60 is available in: ceramic, plastic, glass and metal, in many colors.
The Kalita Wave is available in glass, ceramic (available in few colors) or metal.
Sizes:
Hario V60 has sizes 1= 1 to 2 cups, 2= 1 to 4 cups and 3= 1 to 6 cups.
Wave: #155 for 1 to 2 cups and #185 for 3 to 4 cups.
Paper Filters:
Hario V60 can be used with any cone style paper filter and it's not restricted to their own brand of filters.
The Wave uses their own filters which have their unique shape that contributes to the quality of coffee.
Serving Coffee Using Kalita Wave or Hario V60:
Both drippers fit over standard mugs and can brew directly into your cup. If you're brewing for more than one cup, it is recommended that you brew over a serving pot, which is available for both Hario V60 and Kalita Wave (sold separately by each brand).
Kalita Wave vs. Clever Dripper: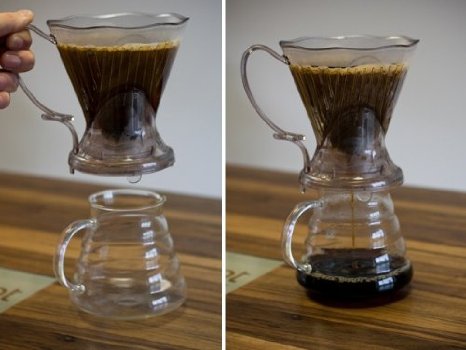 Clever Dripper is actually slightly different than other Pour-over drippers, including Wave and Hario V60. It combines two methods of brewing: pour-over and immersion.
Brewing Method:
Clever Dripper: it looks like many drippers with its cone-shape, but the Clever is able to hold the coffee while it brews instead of going through right away. The coffee continues to steep (immersion) until you decide it's time to stop. When you place the dripper over a mug or pot, it will start pouring the brewed coffee.
With the Kalita Wave, the coffee will start to pass through the dripper as you pour in water.
Sizes:
Clever is available in two sizes: Small and Large.
Material:
The Clever is available in TRITAN, BPA-FREE plastic only.
Paper filters:
The Clever dripper can use any cone style paper filter. Size #4 for the Large and #2 for the Small.
Kalita Wave Kettle vs. Hario Buono Drip Kettle, Which Is Best?
As a fan of pour-over, you probably know the importance of using a goose neck kettle to pour water in your brewing process. It allows for a better distribution of water over the dripper and results in an even extraction.
The question is, is there a difference between Kalita's Wave Kettle and Hario's?
Truth is, there's not a lot of difference between the two kettles, but here's what we were able to come up with from our research:
Capacity and Origin:
The Kalita Wave kettle is available in 1L capacity only. It is made in Japan.
The Hario is available in 1L and 1.2L capacities. It is made in China.
Design:
The handle on the Kalita Wave kettle is wooden, which gives it a better aesthetic but can draw some heat.
The handle on the Hario kettle is silicone.
Watch The Following Videos:
How To Brew Using Hario V60:

Kalita Wave vs. Hario V60 vs. Chemex: