When it comes to choosing between a regular espresso or an espresso machine with a built-in grinder, which should you go for?
First of all, it will come down to your budget. Espresso machines with built-in grinders are most expensive than one without a grinder. But if you're planning on buying an espresso machine as well as a conical burr grinder, it will sum up to the same amount as machine with built-in grinder.
But having a machine with the grinder built in automates the process of grinding and brewing. If you choose an automatic espresso machine, you'll be able to have the perfect cup of coffee with a push of a button, the machine will automatically grind the perfect amount of coffee and brew it right away.
Best Espresso Machines with Built-In Conical Burr Grinders:
Breville BES870XL Barista Express Espresso Machine: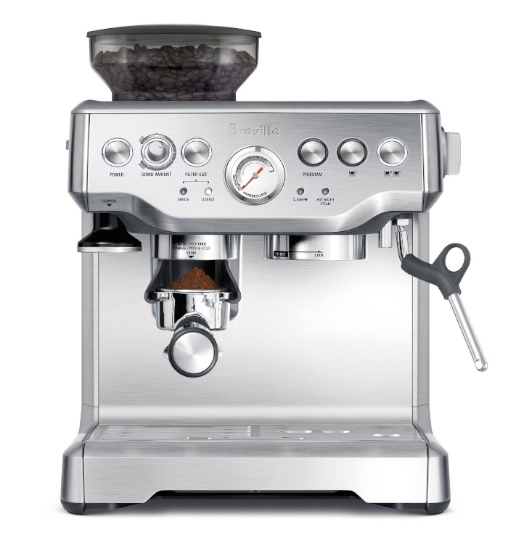 15 bar pump pressure with 1600 watts thermocoil heating system.
Stainless steel conical burr grinder with 1/2 lbs bean hopper.
Adjustable coffee grind options.
Semi-automatic machine allows you to control the pressure, temperature and many more features.
Built-in tamper and portafilter cradle.
67 oz removable water tank.
Purge function automatically adjusts water temperature after steaming for perfect extraction of espresso.
Steam temperature gauge.
Single and double filter basket included.
Steam wand for milk frothing.
Click here to learn more about the Barista Express.
Philips Saeco Vienna Plus Espresso Machine: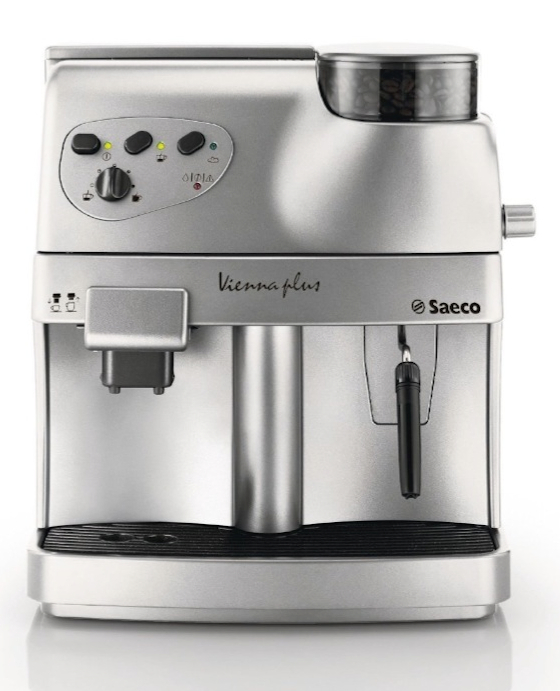 One of the most affordable and reliable super-automatic espresso machines with built in grinder.
1250 watts, 15 bar pump pressure.
Adjustable conical burr grinder.
12 oz bean container.
Opti-Dose adjustable doser.
Used puck drawer holds up to 15 used bean pucks.
57 oz removable water tank.
Stainless steel boiler.
Pannarello steaming wand.
Available in silver or black.
KRUPS EA8250001 Espresseria Full Automatic Espresso Machine with Built-in Conical Burr Grinder: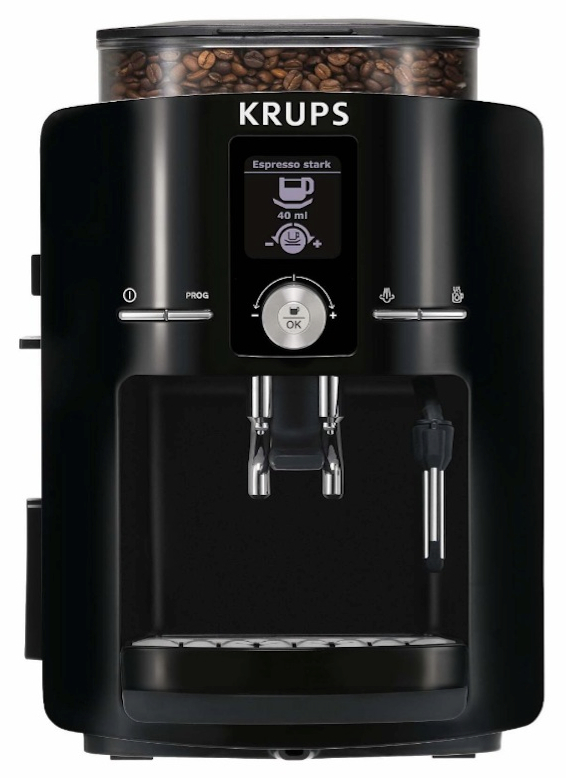 Another great super-automatic espresso machine with built in conical burr grinder.
1450 watts, 15 bar pump pressure.
LCD display allows for easy machine adjustment and control.
Patented thermoblock heating system ensures consistent temperature from first cup.
60 ounce removable water tank.
9 oz bean container.
Height adjustable coffee dispenser eliminates splashing when using a short cup.
Adjustable and re-programmable coffee grind and coffee volume.
Milk frothing wand. Also dispense hot water.
Water filteration system allows you to use tap water that will be automatically cleaned and filtered.