Single Serve coffee makers continue to be one of the best selling type of brewers right now. They're such a convenience in the morning when you're rushing to work, or in the evening when it's time to curl up with a nice warm cup of coffee. Using a single-serve coffee maker, you just know you'll be getting a perfectly measured cup of coffee without a hassle.
In this post, we're looking at two different single-cup coffee makers: The KitchenAid Personal Coffee Maker and the Keurig. How do you choose one and what is the difference between them?
Let's start with the features of each coffee maker:
Features of KitchenAid Personal Coffee Maker: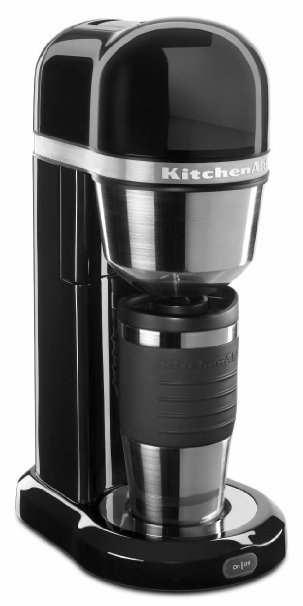 A compact design with removable water tank.
Brews directly into any mug or 18 oz travel mug.
Use your favorite ground coffee, no pods required.
Includes a gold-tone permanent filter.
Thermal 18 oz travel mug is included.
One touch brewing, no special settings required.
Simply fill the water tank with your desired amount of coffee, fill your coffee basket and hit brew.
Available in 4 colors: red, black, silver and espresso brown.
For a fair comparison, we're going to choose the Keurig Mini for this comparison as it's in the same price range as the KitchenAid brewer.
Features of the Keurig K15 Mini Coffee Brewer:
Smallest Keurig K-Cup brewer.
Uses K-cup pods to brew coffee. Refillable K-cups are available separately.
Select from 3 cup sizes: 6, 8 or 10 oz.
Water tank is filled up each time you want to brew a cup.
Button controls and small display for cup size selection.
Light indicator shows your the brewing process.
This brewer does NOT fit a travel mug.
What Is The Difference Between The KitchenAid Personal Coffee Maker and a Keurig?
These two coffee brewers have their similarities and differences:
Both were made to make a single cup every time (no water reservoir, just fill up the tank with fresh water at every brew).
The biggest difference though is that the KitchenAid is not a pod brewer, but a classic coffee ground brewer, while Keurig is known for its K-Cup pods. The good news is, you can purchase a refillable K-Cup pod to use your own coffee ground instead of a K-Cup.
When it comes to sizes, the KitchenAid brews a max of 18 oz (travel size mug) and in fact, it comes with a thermal travel mug. The Keurig Mini does 10 oz max and you can't brew directly into a travel mug.
Both brewers don't have special settings to customize your coffee in strength. It's a simple one-touch brewing process.
Which One To Buy?
The biggest factor here is the size you want to brew. If it's important to you to brew directly into a travel mug, then the KitchenAid brewer is the obvious choice. Not only does it brew into a 18 oz travel mug but it also comes with one.
If the travel size is not an issue, then here's a reason to consider the Keurig: you have the option to use K-Cup pods or ground coffee. Why would you want to use K-Cups? it gives you a large variety of drinks to try and not just coffee. There are K-Cups from many different major brands like Starbucks, Dunkin Donuts, Green Mountain, Folgers and many more. There are also many drinks, like coffee, cappuccino, flavored coffee, hot chocolate, tea and more! Click here for the difference between Keurig K15 vs K10 Mini
How To Use KitchenAid Personal Coffee Maker:
How To Use Keurig K15 Mini:
Common Questions:
How Long Does It Take the KitchenAid Personal Coffee Maker and Keurig To Brew a Cup?
Of course, it will depend on the capacity you're brewing. But on average, it takes the KitchenAid up to 5 minutes for the full capacity, while it takes the Keurig less than 2 minutes.
Can The KitchenAid Personal Coffee Maker Use Paper Filters Instead of Permanent Filter?
Yes, you can use #2 cone paper filters instead of the gold-tone filter.
Is The Travel Mug Included with The KitchenAid Coffee Maker Stainless Steel?
Yes, it's stainless steel and should keep your coffee hot.
Save