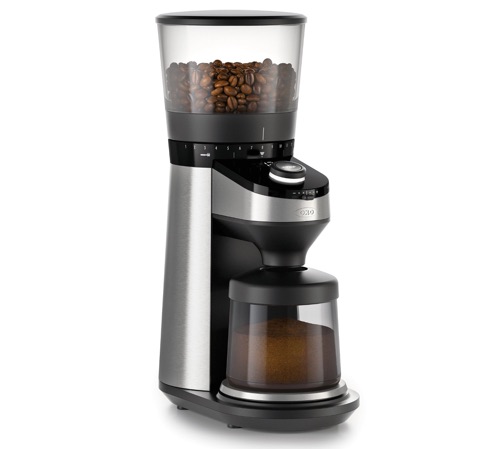 If you're in the market for a conical burr grinder, there are certainly many great choices out there, and the OXO On Conical Burr grinder is one of them. The grinder comes packed with new cool features that give you a fantastic at home brewing experience.
Features of the OXO On Conical Burr Grinder:
Barista Brain Grinder's Intelligent: With its built-in scale, the grinder measures by weight instead of time, for a more precise amount of ground.
Grind based on the number of cups you want to brew, the grinder will grind the precise amount by weight.
One-touch dial with LED display for easy controls.
40mm stainless steel burrs.
Choose from a wide range of grind settings ranging from fine to coarse.
Built in overheat protection protects your motor, while a no-bean detector prevents the grinder from grinding with no beans in it.
12 oz bean hopper.
Coffee container holds enough coffee ground to make 12 cups.
"Trap Door" design keeps beans in when hopper is removed.
The Built-in Scale Of the OXO On Grinder:
One of OXO On's best features is its built in scale. To get you the most precise amount of coffee, the grinder is set to grind based on weight instead of time. Meaning, when selecting to grind for 5 cups of coffee, the grinder will grind you the perfect amount by weight to brew that many cups of coffee using its pre-set grams to cups ratio. Alternatively, you can customize the settings to change the ratios, or grind your desired weight.
Watch How It Works:
OXO On Conical Burr vs. Breville Smart Grinder PRO, Which Is Best?
At its price point, the Breville Smart Grinder Pro is closet thing to the OXO On Grinder, which makes them quite competitive. But which one makes a better choice for you?
Here are the features of the Breville Smart Grinder Pro:
It has 60 precise grind settings from fine to coarse.
Precision Electronic Timer allows you to adjust grind time in 0.2 second increments.
It has a 16 oz bean hopper.
You can grind directly into a portafilter, a coffee container or a permanent filter.
LCD display allows you to easily set your settings, from number of cups, grind settings and fineness and timer.
Learn more about Breville Grinder Smart Pro

How Are They Different?
Well, the biggest difference here is the fact that the OXO relies on weight for its grind while Breville's Smart Grinder uses time control.
The Breville Smart Grinder Pro has 60 settings for grinding, giving you a lot of room to adjust your grind exactly how you want it.
The best feature of the OXO On Grinder is its built-in scale, which is quite useful.
Which One To Choose?
If you're grinding for drip coffee or french press, both of these grinder should deliver excellent results. Your only choice would be if you prefer the timer method or by-weight method for your grinding.
When it comes for espresso grinding though, we prefer the Breville Smart Grinder Pro as it delivers more precise results. Also, it works great for both pressurized and non-pressurized portafitlers. While the OXO On doesn't work for non-pressurized filters.