If you enjoy a creamy and frothy cup of Cappuccino or Latte, then a milk frother is a must-have for you. We've written about the best rated electric milk frothers before, which we absolutely love! But it seems that some of our readers prefer the more simple battery-operated version of a milk frother. And that's what we will talk about in this post.
What Is a Milk Frother?
A milk frother is a simple device that whisks up milk and creates a nice foam to use for a cup of Cappuccino, Latte, Hot Chocolate or more. A milk frother is available as a battery-operated whisk (which is what this post is about) or an electric version that automatically heats and whisks the milk for you.
Here are a few things you should consider before buying a handheld, battery-operated milk frother:
If you're hoping to create beautiful Latte art, a milk frother is NOT the way to go. A milk frother creates dense foam, while for latte art, you'll need smooth and creamy milk texture that is usually created by steaming milk using a steam wand (the frother built into an espresso machine).
The biggest difference between using a battery operated and electric milk frother is that with a manual frother, you'll have to heat up your milk separately then froth it. Using an electric frother, it heats up the milk for you as well as froth it, all within minutes.
Why We Like These Handheld Milk Frothers:
Handheld milk frothers are pretty basic devices with a single use, so it's pretty hard to find one that is quite impressive. Most people opt for the most affordable one and hope for the best. But when choosing our best picks, we picked frothers that pack the most value for your money. If you're going to spend on a device (even if it's not a significant amount), we'd love to offer you the best bang for your buck! So here goes our favorite picks…
Our Best Picks for Battery-Operated Handheld Milk Frothers: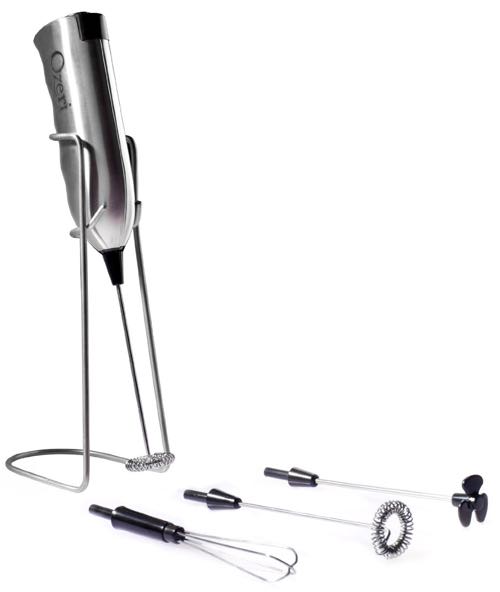 Ozeri Deluxe Milk Frother: a great stainless steel frother with a stand. It provides 15,000 rotations per minute for a pretty quick whip up, and it works for all type of milks (whole, soy, almond… etc). The great thing about this frother is that it includes 4 attachments: 2 frothing whisks, 1 egg beater and 1 cocktail mixer, giving you more great uses for it.
Click here to learn more about the Ozeri Deluxe frother, read the customer reviews and buy it

Classique Elite Series Milk Frother: One of the cool features of this frother is that it has dual speeds (not many handheld frothers have this), speed control allows you to control the amount of foam in your milk. It includes a nice stainless steel coffee scoop with a clip as a bonus.
Click here to learn more about the Classique Elite Series Milk Frother, read the customer reviews and buy it.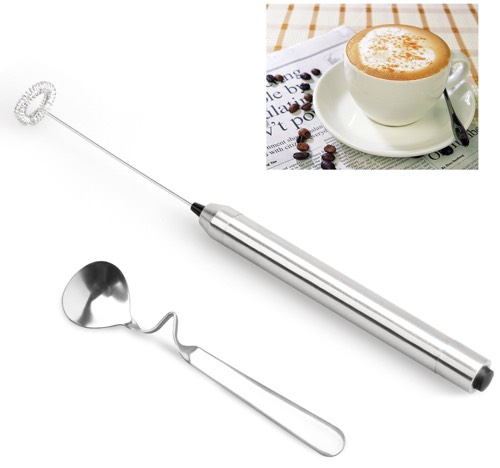 Kollea Milk Frother: This frother has a nice narrow design with the operating press-button on top. It includes a stylish scoop and mixing spoon that you can use to either stir your drink or scoop out the froth.
Click here to learn more about the Kollea Milk Frother, read the customer reviews and buy it.