We've compared two espresso machines by DeLonghi, the EC155 and EC702 as two slightly similar espresso makers from the same brand. But what if you're on a specific budget and want to compare two machines based on that? Well, like always, we're here to help! In this post, we will be comparing the DeLonghi EC155 and Saeco Poemia espresso machine, two entry-level espresso machines for someone with a budget under $100.
DeLonghi EC155 vs. Saeco Poemia:
Similar Features:
15 bar pump pressure with pressurized portafilter.
Can extract ground coffee or e.s.e pods.
Stainless steel boiler
Steam wand for milk frothing.
Removable water reservoir.
Dial knob control.
Is There a Difference Between Them?
According to our research, there's no notable difference between them. The Saeco Poemia does have a slight better design, with a broader cup warming tray on top and a better, longer steam wand equipped with Pannarello which makes a better and easier froth. Performance wise, they both work the same way.
Which One Should I Buy?
Both the Saeco Poemia and DeLonghi EC155 are decent entry-level espresso makers for under $100. They're perfect for someone who's just beginning to make espresso at home and also make a great gift. If you're buying an espresso machine mainly for milk based drinks (cappuccino, latte…), we would recommend the Poemia over the DeLonghi EC155 for the better designed milk frother, which should make the task easier for you.
Other Saeco Poemia Comparisons:
DeLonghi ICONA ECO310 vs Saeco Poemia, Which Is Best To Buy?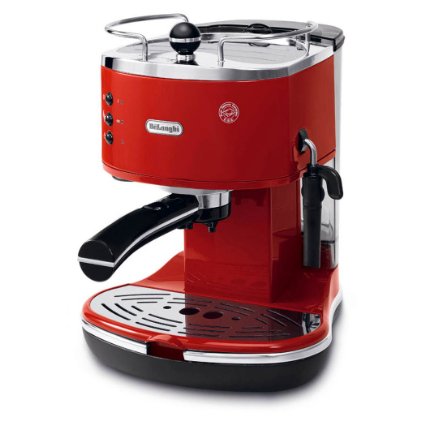 At nearly double the price of the Saeco Poemia, you pretty much get the same features from the DeLonghi ICONA. It does have an overall better look, button operation vs. a dial knob for the Poemia, but you would get the same result when it comes to operation. The steel exterior of the ICONA is probably the reason for its extra price, and it's available in many colors. As an appliance that sits over the counter and is on display all the time, this could be worth it.
Breville Cafe Roma vs Saeco Poemia:
Now when it comes to the Breville Cafe Roma, it's quite an upgrade compared to the Saeco Poemia, and you can see that at first sight. It features a beautiful industrial inspired design and full stainless steel body, this commercial grade housing makes it very durable to use. The grouphead on the portafilter is also metal, unlike the plastic on the Saeco Poemia, which gives you better extraction, and makes it more durable.
The Breville Cafe Roma is higher in price than the Saeco Poemia, but in this case, you get what you pay for.