We've previously compared Capresso's milk frother FrothPRO, FrothPLUS and FrothTEC. Since Capresso's frothers are more affordable in price, we thought we'd compare it to the more expensive Nespresso Aeroccino. As both seemingly do the same thing, we all come to wonder if there's an actual difference to justify the price. Here's our comparison:
Difference Betweeen Capresso FrothPRO and Nespresso Aeroccino:
[apc id="39″]
Included Whisks:
Both Capresso FrothPRO and Aeroccino include a set of 2 whisks, one for light latte froth and another for thick cappuccino froth. You can also choose to heat milk only.
Type of Froth:
FrothPRO has three settings: hot, cold and warm.
Aeroccino has hot and cold.
Capacity:
The FrothPRO has a 8 oz capacity for frothing (about 230 ml), and 12 oz capacity for milk heating (about 354 ml).
The Nespresso has 130 ml frothing capacity and 250 ml for hot milk.
Interior of the Frothers:
The Capresso FrothPRO has scratch resistant ceramic coated interior.
Aeroccino is made of stainless steel.
Cleaning:
FrothPRO pitcher and lid are dishwasher safe.
Aeroccino is hand wash only.
Which One Should You Buy?
The Capresso FrothPRO is packed with features, making it a great value for its price. It is larger in capacity, and unlike the Aeroccino, it is able to make Warm milk or froth. The pitcher is dishwasher safe, making it easier to clean. However, the one concern is the coating of the pitcher. Although it is scratch resistant, this type of coating tends to scratch or peel over time.
Click here to learn more about the Capresso FrotherPRO, read the customer reviews and buy it.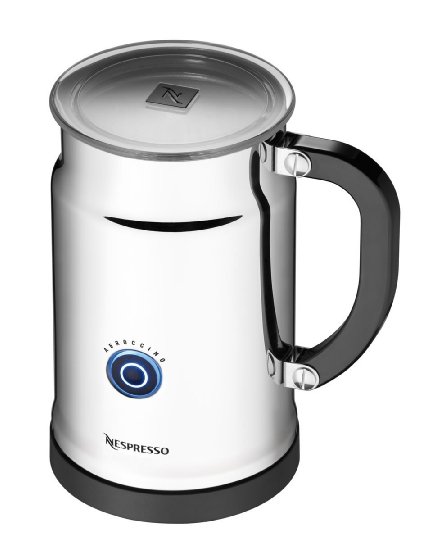 The Nespresso Aeroccino lacks a few of the FrotherPRO's features, but it is still an excellent frother. Its stainless steel construction gives it a very durable body that will not scratch at all. It's also quicker, it only takes 60 to 70 secs to complete.
Click here to learn more about the Nespresso Capresso, read the customer reviews and buy it.

Watch How They Work:
Review of the Capresso FrothPRO:

Review of Nespresso Aeroccino: