We've once features the Capresso frothPRO electric milk frother as one of the best selling frothers on the market, and this fact still remains. But we have noticed that there are two Capresso electric frothers that are almost identical, the Capresso frothPRO and frothPLUS. We will be comparing them in this post, but before we get into that, here's a quick recap of what this frother can do….
Features of the Capresso frothPRO:
Select from three temperature settings: hot, warm and cold.
Includes two disks for different froth densities.
Large ceramic coated aluminum pitcher, detachable from the base.
Frothed milk capacity= 8 oz. Steamed milk capacity= 12 oz
See-through plastic lid lets you see as your milk foams.
Auto shut-off operation.
Click here to learn more about the Capresso frothPRO, read the customer reviews and buy it.
What's The Difference Between Capresso frothPRO and frothPLUS?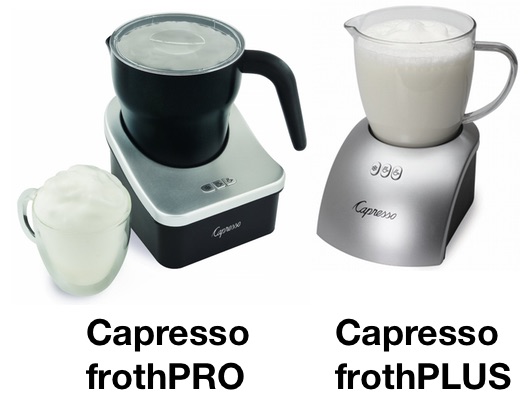 There's only ONE difference between the two frothers, and if you look at the photo above, you'll probably notice it right away:
The frothPRO features a scratch resistant, ceramic coated aluminum pitcher.
The frothPLUS has a BPA-free plastic pitcher.
That's where the difference stops. Operation and feature wise, both are exactly the same.
How Is The Capresso frothTEC Different than the frothPro and frothPLUS?
Apart from the design difference, the frothTEC has a larger capacity of 10 oz.
It has brushed stainless steel exterior and glass pitcher.
Otherwise, it has the exact same features as the other two Capresso frothers.
Which Should You Buy?
We'll certainly recommend the frothPRO over the frothPLUS and frothTEC for its durable and easy to clean pitcher. Having an aluminum pitcher doesn't only mean more durability, but also it should be able to keep the temperature of the milk longer. If you're looking for the largest capacity, then the frothTEC should be your choice.