It is no secret that the coffee you drink is as good as the grind you make. Brewing a fresh and consistent ground of coffee makers a huge difference in the taste of the cup you're brewing, and that's why a coffee grinder is a must-buy. However, many people get quite confused over what type of grinder should they buy. In our post today, we will focus on answering the question " Should I buy a manual or an electric grinder?".
Of course, there are advantages and disadvantages to each kind of grinder, and the best kind of grinder will vary from one person to another, so read the post and we hope we will help you get your answer here!
What Is a Hand Coffee Grinder and How Does It Work?
Just like it sounds, a hand grinder or a manual grinder is worked by hand. Just like electric grinders, many hand grinders are adjustable and have ceramic burrs that won't heat the beans, so quality of the grind isn't the issue here. With a hand grinder you will manually adjust the burrs to get the fineness you want and you will manually rotate the crank until your beans are fully ground. The process requires some patience and a little power.
Pros of a Manual Hand Coffee Grinder:
Affordable: an electric burr grinder can set you back a few hundred dollars, but a hand grinder can be well under $50 -$70.
Portable: if you're someone who's always on the go, you'll appreciate the fact that you can take a hand grinder with you everywhere you go.
Non-electric: a hand grinder is fully manual, so you don't have to worry about power consumption.
Adjustable: you can always adjust the grind on a hand grinder to meet your required brewing method.
Quiet: if noise is an issue to you, a hand grinder doesn't make a sound, which is a big plus.
Cons of a Manual Hand Grinder:
Time Consuming: If you're looking to make a quick cup of coffee, grinding by hand isn't the method to go for.
Limited Adjustment: while you can adjust the grind on a hand grinder, the adjustment is pretty limited in comparison to an electric grinder. You can probably get anything from 5 to 10 adjustable settings on a hand grinder, while you can get over 40 on an electric one.
Limited Quantity: say you want to grind a large amount of coffee at some point, doing it by hand would be such a hassle. With most hand grinders, you can get a maximum of 2 or 3 cups of coffee at a time.
Tiring: yes, this manual operation will get tiring at some point. And if you don't have the patience and time for it, then it's not the right grinder for you.
Best Manual Hand Coffee Grinders:
Hario Ceramic Skerton Coffee Mill:
Hario, leaders of manual coffee gear and gadgets, has created this manual grinder with a generous capacity of 100 grams. It has about 4 levels of adjustment to grind the coffee to different fineness. The Hario Skerton ceramic mills, which is great for creating a consistent grind without heat up the beans. The grinder hopper is hard plastic with silicone non-slip handle and the bean catcher (bottom part) is heatproof glass.
Click here to learn more about the Hario Skerton Ceramic Coffee Mill, read the customer reviews and buy it.
Watch How It Works:

Porlex JP-30 Stainless Steel Coffee Grinder: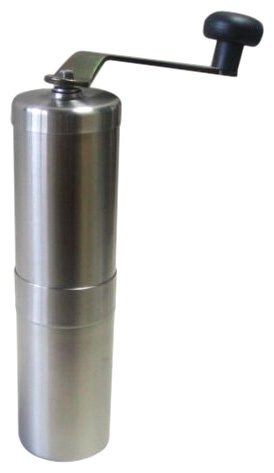 The Porlex grinder is another popular choice among many coffee lovers. This one is smaller and more portable than the Hario Skerton, as it has a capacity of only 30 grams, but it makes a perfect travel companion. It features ceramic burrs, adjustable grind settings and a stainless steel body. It is made in Japan.
Click here to learn more about the Porlex JP-30, read the customer reviews and buy it.Watch How It Works:

What Is an Electric Burr Coffee Grinder?
You've probably seen an electric burr coffee grinder before, it's in every coffee house you go to and it's what they use to grind the coffee of your favorite drink right before preparing it and it only takes seconds to get the task done. Electric grinders are quick and easy to use.
Pros of an Electric Burr Grinder:
Speed: an electric grinder will do what a hand grind does in seconds. This especially matters if you're brewing for espresso, because in this brewing method, you will need to brew the ground right away so you don't lose any aromas.
Adjustable: an electric grinder will give you the option to really fine-tune the grind fineness, which in turn allows you to experiment with your grind and the taste of your coffee.
Cup Selector/Timer: when it comes to the right quantity to grind, an electric grinder will take the guess work out and will automatically grind the perfect amount for the number of cups you choose.
Cons of an Electric Burr Grinder:
Expensive: an electric burr grinder can be expensive in comparison to a manual grinder, yet many options can be quite affordable for what they are.
Large in size: an electric grinder can take up some counter space and will need their dedicated place in your kitchen. And they're not portable.
Loud and Noisy: this is no surprise but an electric grinder will be quite loud, but it's nothing unbearable.
Best Electric Burr Grinders Under $150:
Bodum Bistro Electric Conical Burr Grinder:
This rather affordable grinder by Bodum does a great job at providing you with a good grind at an affordable price. The Bodum Bistro electric grinder has 14 grind settings to choose from coarse to fine. It has a borosilicate glass catcher reduces static that usually comes with grinding beans, and it comes with a lid that keeps the ground coffee fresh. a push button, pre-set timer allows users to grind the exact amount of coffee needed. The grinder is available in many colors.
Click here to learn more about the Bodum Bistro Electric Coffee Grinder, read the customer reviews and buy it.
Watch How It Works:
Baratza Encore Conical Burr Coffee Grinder: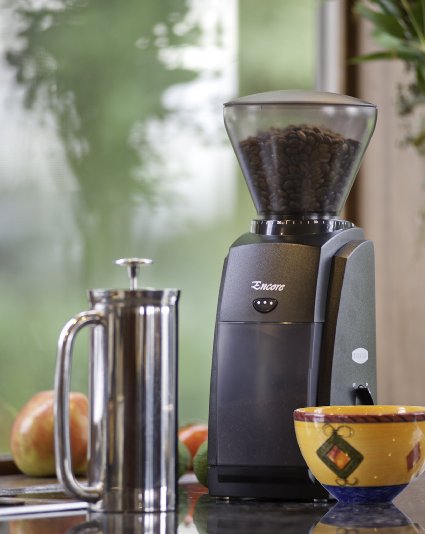 This is the entry-level grinder by major grinder brand Baratza. The Encore has 40 adjustable fineness settings, which is amazing for all kinds of brewing methods. The bean hopper holds up to 8 oz of beans, while the ground bin holds up to 5 oz.
Click here to learn more about the Baratza Encore Coffee Grinder, read the customer reviews and buy it.
Watch How It Works:
More Posts To Read: