It's no secret that the grind of your coffee has a lot to do with how good your brewed cup turns out to be. Unfortunately, many people tend to skip on buying a grinder due to the fact that they're usually quite expensive. However, that's not the case when it comes to the two budget grinders we'll be comparing today. The Cuisinart DBM-8 and KRUPS GX5000 are both under $50, which makes them a perfect buy for anyone on a budget. But which one of them should you choose? That's what we will be answering in this post.
Features of the Cuisinart DBM-8 Supreme Burr Grinder: 
burr grinder that provides a consistent grind every time.
Heavy-duty, stainless steel housing.
Choose from 18 total grind settings. Three main settings: Fine, Medium, Coarse with 6 grind settings for each type of these grinds.
Automatic quantity grinding: simply choose from 4 to 18 cups and the grinder will automatically grind the optimal amount for you.
8 oz bean hopper.
Grind chamber holds enough coffee ground for 32 cups.
Rotating dial allows you to easily select your grind settings and timer.
Click here to learn more about the Cuisinart DMB-8 Supreme Grind Automatic Burr Mill, read the customer reviews and buy it.
Features of KRUPS GX5000 Coffee Burr Grinder: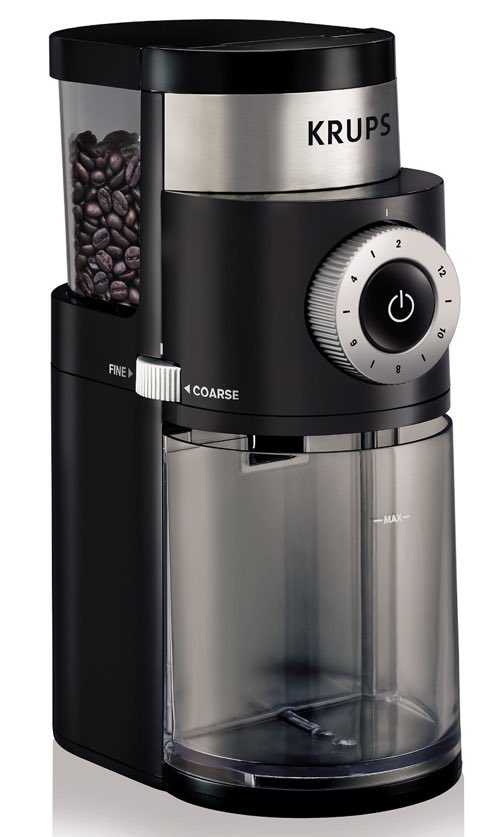 Steel flat burr grinder.
Choose from a total of 45 grind settings. 9 main settings from fine to coarse with 5 settings for each type.
8 oz bean hopper.
Quantity selector: choose from 2 to 12 cups.
Stainless steel and black plastic housing.
Grinder is set by using two dials, a dial knob for grind settings and another dial for type of grind (fine to coarse).
What Is The Difference Between Cuisinart DBM-8 and KRUPS GX5000?
Grind Settings:
The KRUPS GX5000 has a lot more grind settings than the Cuisinart DBM-8, with a total of 45 settings on the KRUPS vs only 18 on the Cuisinart.
Quantity Selector:
On the Cuisinart, you can automatically grind the amount of 4 to 18 cups of coffee.
For the KRUPS, the selector allows you to choose from 2 to 12 cups.
Bean Hopper Capacity:
Both grinders have the same 8 oz capacity bean hopper.
Which Of These Grinders Should You Buy?
Since both the Cuisinart DBM-8 and KRUPS GX5000 are almost the exact same price (at the time of writing – kindly always check for the latest price), it will certainly come down to the features.
We are leaning towards the KRUPS GX5000 here because of its wider grind setting selection. With a grind like this, you can really fine-tune your grind and experiment till you get the result you really want. This works for any type of brewing method, from French Press, to drip, pour-over or espresso.
Watch How They Work:
Review of the Cuisinart DBM-8 Supreme:

Common Questions & Answers: 
Are The Cuisinart DBM-8 and KRUPS GX5000 Conical Burr Grinders?
No, they are not. And that's why they're available at such an affordable price. These grinders use flat burrs.
What's The Difference Between a Flat Burr and Conical Burr?
A flat burr is different shape than a conical burr. Flat burrs sit on top of each other in a flat manner (hence, the name), while conical burrs are cone shaped and are nested in each other with a grind mechanism that is kind of vertical. While these burrs work differently, both can provide consistent results.