Manual coffee brewing methods are growing ever so popular for their easy of use and superb results.
Not all manual brewing methods are alike though. There are many different methods that you can try to see which will give you your favorite taste profile. Our subject of matter in this post will be Immersion brewing, how it is different than drip (pour over) coffee and which tools are best for immersion brewing.
Top Pick
Clever Coffee Dripper and Filters, Large 18 oz (Cloud)| Barista's Choice| Safe BPA Free Plastic|Includes 100 Filters
Runner-up
Aeropress Original Coffee and Espresso Maker, Barista Level Portable Coffee Maker with Chamber, Plunger, and Filters, Quick Coffee and Espresso Maker, Made in USA
Classic Pick
Mueller French Press Double Insulated 304 Stainless Steel Coffee Maker 4 Level Filtration System, No Coffee Grounds, Rust-Free, Dishwasher Safe
Top Pick
Clever Coffee Dripper and Filters, Large 18 oz (Cloud)| Barista's Choice| Safe BPA Free Plastic|Includes 100 Filters
Runner-up
Aeropress Original Coffee and Espresso Maker, Barista Level Portable Coffee Maker with Chamber, Plunger, and Filters, Quick Coffee and Espresso Maker, Made in USA
Classic Pick
Mueller French Press Double Insulated 304 Stainless Steel Coffee Maker 4 Level Filtration System, No Coffee Grounds, Rust-Free, Dishwasher Safe
Pour Over vs. Immersion, What's The Difference?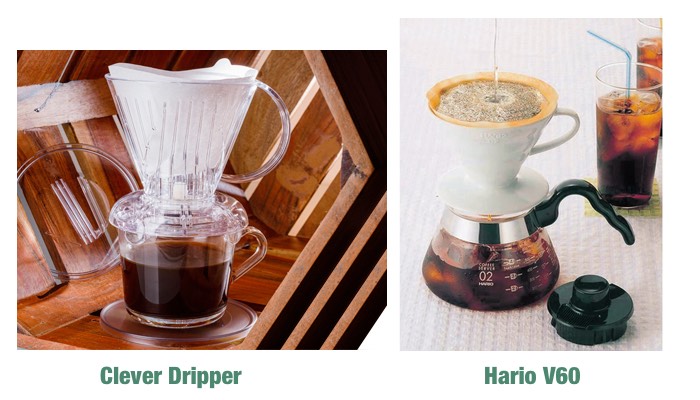 One of the most popular manual coffee drippers is Chemex, followed closely by Hario's V60 dripper or similar drippers from other brands. Using one of these drippers is rather simple:
Put your paper filter, fill with coffee ground then start the brewing process by pouring hot water in a steady flow.
As you pour in the water, the extraction process begins. Depending on the pour over tool you use, you will get different flavors and tasting notes even if using the same coffee beans.
Pour over requires that you slowly pour in the hot water in a timed and steady manner. And while some coffee lovers enjoy this process, others might find it a bit tiresome.
This is where Immersion brewing comes in handy. When brewing coffee using an immersion method, the coffee is immersed in water entirely, and it sits there while it steeps and it is fully extracted and ready to drink.
The most popular immersion brewing tool is Fresh Press, followed by Aeropress or Clever dripper, which combines a pour-over dripper with immersion brewing.
Does Immersion Coffee Taste Like Pour Over Coffee?
No, they do not taste the same. With Pour Over, you can expect a crisper and clearer cup of coffee with more noticeable flavors. Immersion coffee gives a bolder cup, generally, but will also depend on the exact method. For example, a tool like French Press, since it doesn't have a paper filter, it allows a lot of coffee's natural oils into the cup, giving you a full and heavy bodied cup of coffee. When using something like a Clever Dripper, as it uses a paper filter, the oils are filtered out and there's not much left in your cup of coffee, so the flavor is not as heavy as French Press's result, but is still bolder than pour-over coffee.
Which Is Easier? Pour Over or Immersion?
Immersion coffee brewing is definitely easier. It's as easy as mixing coffee ground with hot water. You'll just have to pay attention to your ratios to get the best results.
What Tools Do You Need (Other than the Brewer):
Coffee Scale: this is a very important tool to have, generally, when doing any manual brewing method. With a scale, you'll know exactly how much water and coffee you are using. Once you get your measurements right, you'll be able to replicate your recipe over and over and get the same great results every time.
Burr grinder: Whether you choose to buy an electric or manual grinder, this one is a must. Using freshly ground coffee makes all the difference in giving you the best cup of coffee.
Best Immersion Coffee Brewers
Top Pick – Clever Coffee Dripper
Grind Setting: Medium grind
Brew time: 2 to 3 minutes
Maximum capacity: 18 oz – Minimum 11 oz
I'll start with this one because it is my favorite daily coffee brewer. It's very simple and straightforward, and the whole brewing process takes about two to three minutes.
First thing you'll notice is how similar Clever Dripper looks to a V60 dripper. That's because it was designed for anyone who wants something as close to pour over, but with a richer taste, similar to what a French Press can produce.
With the Clever Dripper, the coffee does not go through immediately like a pour over dripper. Thanks to a stopper valve that allows Clever to let the coffee steep first, extracting even more flavors and giving you full control of the brew's strength. Once you've decided the brew is strong enough, you can put the dripper over your cup, server or travel mug and the valve will open up to let the coffee pour in.
The clean up process is just as simple, too. Just remove the filter and toss it, rinse the dripper and you're all set.
What Filters Does Clever Dripper Use?
You can use any standard #4 paper filter. Very inexpensive and available anywhere.
Is Clever Dishwasher Safe? How Do You Clean It?
No, it's not. However, it is very easy to clean, so washing it by hand is your best option. After a while, you may notice some stains around the valve that can be difficult to get by hand. Letting the dripper soak in hot water and mild detergent should take care of that.
Clever Dripper vs. Hario Switch vs. Bonavita – Is There a Difference?
Technically speaking, there is no difference. They're all immersion drippers coming from different brands.
However, each brand uses different design and materials for their drippers. For example, Clever's dripper is made from BPA Free plastic entirely. Hario Switch is also made of plastic, but has a silicone grip that gives it better stability when put on a server or a cup. Bonavita's Immersion dripper is made of porcelain, which feels better and can retain heat better than plastic, but makes it prone to breaking easily.
Runner- Up: Aeropress Coffee and Espresso Maker
Grind setting: Fine
Brew Time: 3 minutes
Aeropress is an immersion brewing tool that makes either one cup or three espresso style cups of coffee. This gadget is popular among travelers especially because of its size, but it's great for anyone who wants a quick cup of coffee without any bitterness or high acidity.
Aeropress uses paper microfilter that results in crisp, grit free cup of coffee. It brews coffee is a simple way: add in the coffee grounds, mix with hot water, mix to saturate the coffee grounds. Then you will have to start to press down a plugner slowly until you feel resistance. This will yield in about 8 to 10 oz of strong coffee and it makes a single serving each time.
Is Aeropress the same as French Press, then? No, they're totally different.
To start, Aeropress uses a paper filter that filters out most of the oils, sediments and grits. So you're definitely getting a cleaner cup of coffee as opposed to want a French Press makes.
When it comes to capacity, French Press pots are available in a variety of sizes, making them great for either single serving use or for multiple cups. Aeropress can make a single cup at each use.
Taste wise, Aeropress is marketed as an 'espresso maker', this is because it makes smaller cups and they're quite strong, but it's not actually espresso. The coffee ground does not steep for long before plunging, so while you do get a strong cup, it's not as heavy bodied as a french press cup of coffee.
Another thing that contributes to taste is grind size. French press coffee requires coarse grounds, this is important so the mesh filter can go down easily when you plunge, but this also contributes to the oily nature of french press coffee. Aeropress uses fine coffee grounds, but since the coffee does not steep for long and it goes through a paper filter, it takes out most of the bitterness. The fine grounds is why you'd feel resistance when plunging down, it's also why the coffee is stronger, the water does not push through it quickly, therefore it extracts more flavor.
Aeropress vs. Aeropress Go – Which One To Buy?
Sale
Aeropress Go Travel Coffee Press Kit - 3 in 1 brew method combines French Press, Pourover, Espresso - Full bodied coffee without grit or bitterness - Small portable coffee maker for camping & travel
An Amazing Cup, Now On The Go: Take the AeroPress Go with you and enjoy a truly delicious coffee wherever you go. The AeroPress Go is slightly smaller than the AeroPress Original, but can still produce 1-3 servings of espresso style coffee, and it features a handy mug and lid that double as a traveling case, making it perfect for the office, traveling, camping, boating and more
All About Taste & Practicality: The AeroPress Go travel coffee maker brews smooth, delicious coffee without bitterness or grit, unlike other methods like french press. There's no experience necessary for brewing with AeroPress Go; with a brewing time of just a minute, AeroPress is all about making it easy to brew delicious coffee wherever you are
Be Your Own Barista: The AeroPress Go is a new way of brewing coffee that delivers a delicious result in just under a minute. You can choose to brew hot coffee or espresso, or use cold water to make cold brew in two minutes. Tweak your combinations and find the right spot for you – with the AeroPress Go, you have total control over your coffee
How to Use: Just add coffee and water, stir, and press! Easily makes 8 oz (237ml) of regular coffee or 1 to 3 espresso style shots for use in lattes, cappuccinos, and other espresso-based drinks per pressing in about a minute. We recommend a medium-fine grind, but vary your recipes however you choose!
About AeroPress: Smart design and creativity have always been the heart of what we do, and we are now squarely focused on inspiring even more coffee lovers around the world to revolutionize their coffee routine. Designed in Silicon Valley, Made in the USA, Materials used in AeroPress coffee makers are free of BPA and phthalates
Aeropress Go is a redesigned version of Aeropress that is more compact and lighter so it's easier to carry around on the go. The whole gadget now fits into a cup and is capped with a silicone lid so every piece stays together safely. And conveniently, the storage cup is also usable for drinking and can hold up to 15 oz of coffee.
Of course, due to the compact size, you will have to sacrifice some of the capacity. The Original Aeropress has 10 oz capacity while the Go version has 8 oz.
The important question is, is there a difference in brewing and coffee results? No, there isn't. You should expect the same results from both versions of Aeropress.
Which version of Aeropress do you buy, then?
If you're a traveler or an outdoors person, then the Aeropress Go only makes sense. It's compact, light and neatly packed into one single pack. Either one you choose, you'll still get the same delicious coffee.
How To Clean Aeropress:
A simple rinse of the Aeropress parts will be sufficient enough to clean it. But if you prefer, you can put it in the top shelf of a dishwasher.
Aeropress vs. V60, How Are They Different?
These are totally different brewing methods with different coffee results.
Aeropress is an immersion brewing method while V60 is a pour-over brewing method.
Aeropress gives you stronger coffee. It uses fine Espresso-like grind and while the coffee does not steep for long, it is fully immersed in water before it's plunged down. V60, on the other hand, uses medium coffee grounds, and the water is poured down continuously so the brewing process starts immediately. This results in a lighter bodied and cleaner cup of coffee.
Both Aeropress and V60 use paper filters, so you should expect little to no bitterness and grit-free coffee.
Classic Pick – French Press Pot
Sale
Mueller French Press Double Insulated 304 Stainless Steel Coffee Maker 4 Level Filtration System, No Coffee Grounds, Rust-Free, Dishwasher Safe
If you really care about your coffee – We tested enough mechanisms and filters to make your head spin to tweak and uniquely design our press with a triple layered filter structure to stop the sediment, but let the yummy coffee oils through for a full-bodied delicious brew that will make you a very happy camper. And to share the java love, we give you a bonus matching travel canister that holds enough beans or grounds for two full batches.
More thicker, More heavier, Build to last – Our huge capacity professional grade 304 18/10 double-layered stainless-steel baby will keep your coffee hot for 60 minutes longer than thinner steel and glass models. And it's drop proof, rust proof, and probably bulletproof (be nice).
Multiple Uses - Besides using the french press as a coffee maker, it is also handy appliance to make tea, mct oil coffee, hot chocolate, cold brew, frothed milk, almond milk, cashew milk, fruit infusions, and plant and herbal drinks as it seals in their flavors and aromas
Perfect for any occasion - For house warmings, weddings, birthdays, holidays and all coffee/tea lovers & healthy foodies! Two bonus stainless steel screens and the matching travel container are included with every purchase while quantities last.
European Engineered - Our total satisfaction promise covers all our products. So choose Mueller with confidence and look forward to a lifetime of java pleasure.
Grind Setting: Coarse
Brew time: 4 to 6 minutes
This is a classic brewing method that does not need any introduction. Even if you don't know much about it, you've probably seen it around.
French Press is one straightforward brewing method and it is favored by anyone looking for a bold and heavy bodied cup of coffee. But to get the best results, you'll want to pay attention to the water to coffee ratio and steeping time. Steeping time makes the difference between over or under extracted coffee. Steep it for less time and you'll get high acidity, steep it for a longer time and you get an over extracted and extremely bitter coffee.
This brewing method is the original immersion brewing method. Many coffee drinkers love it because it's a simple and straightforward way of making a pot of coffee. Unlike previous two gadgets, French Press pots are more versatile when it comes to capacity. If you're making coffee for one person or for five, you'll find a pot that fits your need.
On the downside, cleaning a press pot is quite messy. Since it does not have a a paper filter that catches the coffee grounds, you'll have to discard it by scooping it out of the pot mostly. It's not recommended that you toss it directly into the drain as it can cause blockage over time. The mesh filter has to come a part and be cleaned as some grounds get stuck in it.
If you're someone who enjoys a classic, bold tasting cup of coffee, you'll love using a French Press. I would recommend going for a stainless steel pot over a glass one as it keeps coffee hotter for a longer time and it's less prone to breaking.
Read more about French Press in these posts: