If you like your Pour-Over but don't like the hassle of brewing with paper filters, may it be the fact that you have to keep buying them, or have to first clean them before brewing, there's another way to do pour-over without the use paper filters.
How To Brew Pour Over without a Paper Filter?
You can use a paperless pour over coffee dripper if you'd like to get rid of paper filters.  A Paperless (or No-filter) coffee dripper uses an ultra fine, mesh stainless steel filter instead of paper filters. You'll add your coffee ground directly into the stainless steel filter and start your brewing process. Because the stainless steel filter is very fine, while the coffee ground is coarse, the coffee ground will not go through it, just like with paper filters.
Best Rated Paperless Pour Over Coffee Drippers:
Hario Paperless Coffee Dripper: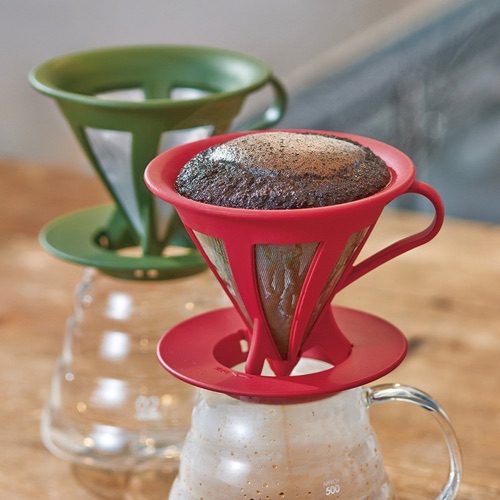 Cone dripper with reusable fine stainless steel filter.
Size #2, makes 1 to 4 cups of coffee.
Includes a base to allow it to sit over a cup or a carafe.
Dripper has plastic construction.
Available in different colors.
Click here to learn more about the Hario Paperless Dripper, read the customer reviews and buy it.
Java Maestro Paperless Stainless Steel Coffee Dripper: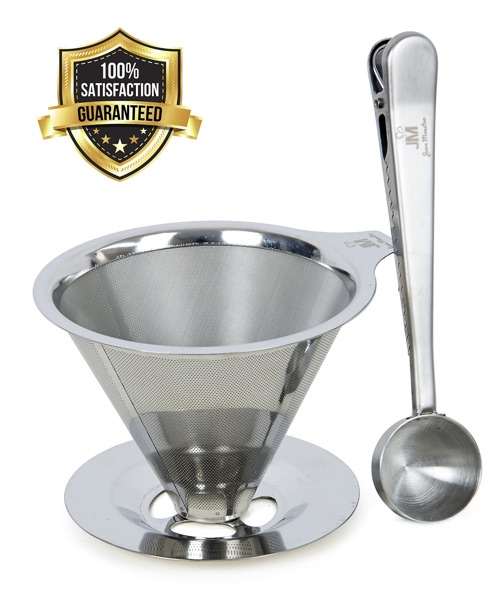 Precise, Laser cut ultra micro double mesh gets you a rich flavor with absolutely no grounds in your coffee.

Makes 1 – 2 cups of coffee

Non-slip stand is built into the dripper. It fits over most coffee mugs, cups, travel mugs and carafes.
Very easy to clean. Rinse with water by hand or place it in the dishwasher.
Includes a free coffee scoop with built-in bag clip, adding more value to your purchase.
100%

 BPA (plastic) free.

Makes a great gift set for any coffee aficionado
Osaka Pour-Over Dripper with Wood Stand: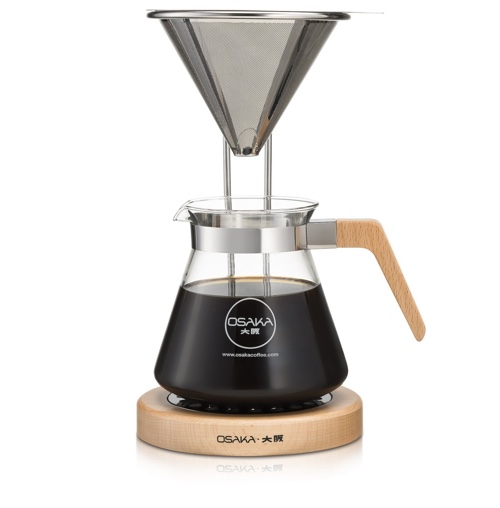 This beautiful design of a pour-over dripper is perfect for anyone looking to brew a carafe instead of a single cup. The Osaka Pour-over set includes a stainless steel cone filter, a glass carafe with a wooden handle and a stand with a wood base that matches the handle. Available in 3 wood types: natural, mahogany and black.
Grosche Stainless Steel Coffee Dripper: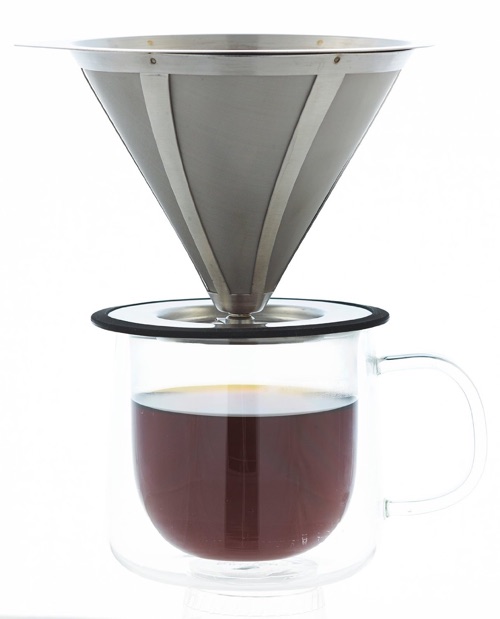 Stainless steel with ultra fine mesh filter.
Can be used over a cup, mug, pot or beaker.
Makes 1 to 2 cups of coffee.
Features non-slip grip on the bottom.
Purchase of this product provides 5 days of clean water for someone in need through the GROSCHE SAFE WATER PROJECT (more info here)
How To Videos and Reviews:
How To Use Hario Paperless Dripper: