If you happened to prefer to scoop your coffee into your coffee maker and simply want to make one cup per brew, what you need is a single-serve coffee maker that doesn't use any type of coffee pods like the popular K-Cups for example. There are only very few options when it comes to such requirements, but we found the best rated one to be a coffee maker by Hamilton Beach that makes single cup of coffee using ground coffee and is quite affordable at under $100.
Hamilton Beach 49981A Single Serve Scoop Coffee Maker: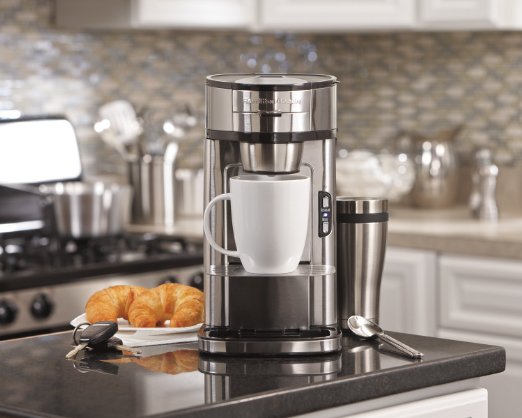 Scoop your favorite coffee ground into a single-serve filter.
Labeled coffee filter helps you get the measurement exactly right.
Can brew up to 14 oz, into a mug or travel mug.
Built in mug stand.
Stainless steel construction.
Automatic shut-off after brewing.
This is as simple as it gets, you want single-serve coffee and it's exactly what this machines provide. Use your favorite coffee ground, scoop it in and hit brew!
Click here to learn more about this Hamilton Beach Coffee Maker, read the customer reviews and buy it.
What Is The Difference Between Hamilton Beach 49981A vs. 49999A FlexBrew Single-Serve Coffee Maker?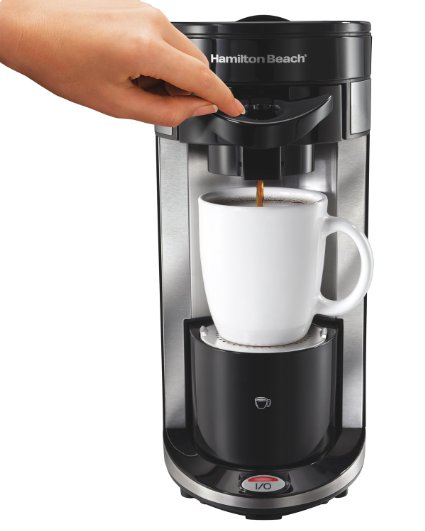 You may notice a similar single serve coffee maker by Hamilton Beach called FlexBrew which is kind of identical to the coffee maker above but with an added feature:
The FlexBrew is able to brew ground coffee, K-Cups as well as soft E.S.E pods
So if you'd like to keep your options open when it comes to the type of coffee you want to brew, the FlexBrew is for you. But do note that it has less water capacity at 10 oz.