Stovetop coffee makers (Moka pots) are the traditional Italian way of making coffee. With a stovetop coffee maker, the result is a really strong and flavorful cup of coffee made in the easiest way possible. It's quick, easy and affordable for everyone.
This post will talk about the best rated stovetop coffee makers, how to use them and we'll answer the most common questions about them.
If you're looking for the best stainless steel moka pots, click here to read our reviews.
Best Rated Stovetop Coffee Makers:
Bialetti Moka Express: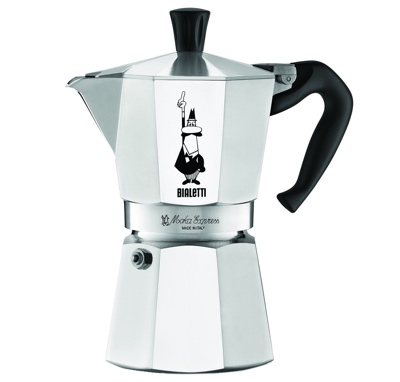 This is the original moka pot, it's where it all started. The Bialetti stovetop coffee maker is made of brushed aluminum, it makes six 2-ounce espresso style cups of coffee in less than 5 minutes. It is also available in sizes 1-cup, 3-cup, 9-cup and 12-cup. The Bialetti is still made the same way it was made when it first came out more than 80 years ago, and it's one of very few stovetop coffee makers are that are still made in Italy. In additional to silver, it is also available in red, blue, purple and orange.
Please note that this Aluminum model of Bialetti works with gas and electric stovetops but won't work with induction stovetops.
Click here to learn more about Bialetti Express, read the customer reviews and buy it.
Bialetti Venus Stainless Steel Stovetop Coffee Maker: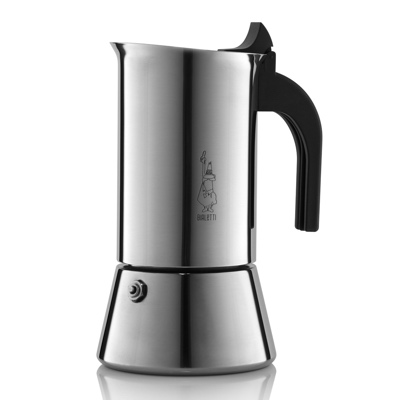 Another great creation from Bialetti, the Venus coffee maker is made of Stainless steel. So unlike the Bialetti Express mentioned above, this coffee maker will work will all types of stovetops: gas, electric and induction. It is available in a 4-cup and 6-cup capacity.
Click here to learn more about Bialetti Venus, read the customer reviews and buy it.
Farberware Yosemite 8-Cup Stainless Steel Stovetop Percolator: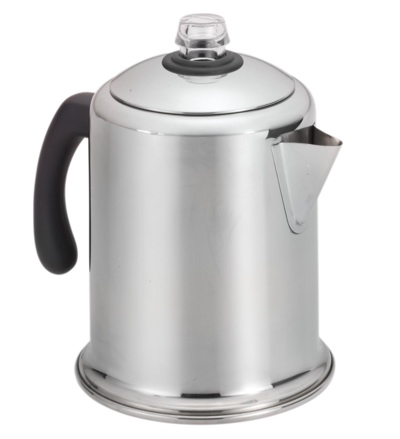 Made of polished stainless steel with 8-cup capacity, the Farberware stovetop coffee maker is a durable and affordable choice. It is compatible with all stovetop types and it's very easy to care for as all parts are dishwasher safe.
How To Brew Coffee Using a Stovetop Coffee Maker:
The process is quite easy. Load the basket with your favorite coffee grind, fill the pot with water and place on stovetop until it boils. Here are a few videos that explain how it works:
What Kind of Coffee Grind Can I Use with Moka Pots?
Brewing with a moka pot requires a fine grind coffee. There's not one type of coffee you can use, feel free to experiment with your favorite type of coffee blends. However, make sure you're using a fine to medium-fine ground coffee.
How Much Coffee Do You Put in a Stovetop Coffee Maker?
This would depend on how many cups you want to make. Usually a moka pot's basket has markings inside that tell you how much coffee to add in so you won't mess it up. Regardless of these measurements though, the rule is, if you're looking to make a stronger cup of coffee, add in more ground, it's that simple!
Recommended Coffee For Moka Stovetop Pots:
We highly recommend illy's coffee. It's authentic Italian coffee, and they sell ground coffee that's been prepared for Moka. The coffee ground is packed in Nitrogen sealed packages to preserve freshness, and it's available in many roasts: dark, medium or decaf.