Enjoying a cup of coffee is a daily routine for most people around the world. While a lot of people enjoy gourmet coffee drinks, many of us still enjoy the taste of an authentic Italian cup of coffee. With the following stainless steel moka pots, enjoying the flavor and aroma of a quality cup of old-style Italian coffee is quick and simple.
Moka pots, also known as stovetop espresso/coffee makers, are a traditional way of brewing a really authentic and flavorful cup of coffee. It does not produce the same thick shot of espresso a machine would product, but it does produce a strong quality of coffee that is served in small amounts.
There's two types of moka pots, aluminum body and stainless steel body pots. When making a buying decision, many people would stop at this point. Should you get a stainless steel or aluminum moka pot?
Stainless Steel vs. Aluminum Moka Pot, Which Is Best To Buy?
When it comes to coffee brewing, both moka pots will produce excellent coffee. But here's where the difference takes place:
An aluminum moka pot is a more traditional pot. It works great but it is harder to clean. Also, if your stovetop is induction type, it won't work with it. It only works with gas cooktops.
Stainless steel moka pots, a modern take on the aluminum moka pot, but still full of elegance and still sports a traditional design. It is very simple to clean, still stainless steel is nonstick. And it works with both induction and gas stovetops.
An example of a aluminum moka pot is the famous Bialetti Moka Pot, and this one comes with a modern twist: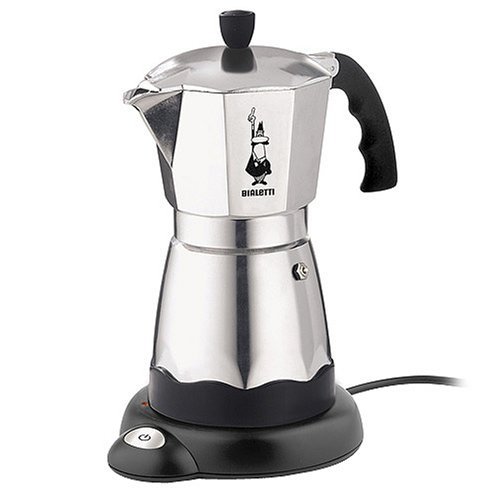 Electric base with authentic design.
Makes six cups of espresso, simply add hot water for Americano.
Polished aluminum body ensures durability.
Mobile power base and automatic switch off function allow peace of mind.
Combines reliability, quality, mobility and convenience.
Tradition meets modern technology in authentic coffee making.
Also available as a stovetop moka pot.
But, as we're more fans of the stainless steel moka pots… here's our top picks:
Best Stainless Steel Stovetop Moka Pots:
Cuisinox Roma Stainless Steel Stovetop Espresso Maker: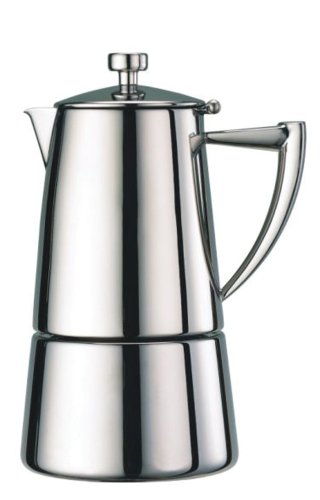 Beautiful, distinguished design.
Holds 6 cups of coffee.
Heavy gauge 18/10 stainless steel ensures durability.
Mirror polish finish.
Induction base, tough and reliable, suitable for all cooking surfaces.
Includes 1 extra gasket and reducer.
Click here to learn more about this pot, read the customer reviews and buy it.
Vev Vigano 8160 Vespress Gold 12 to 14-cup Coffee Pot:
Traditional design.
Holds 12 to 14 cups of coffee (espresso cup capacity).
Provides long term durability with 18/10 heavy gauge stainless steel construction.
Polish finish on handle and lid knob ensures the coffee pot will shine in any kitchen.
Suitable for use on all cooking surfaces.
Comes with stainless steel filter basket and brass pressure release valve.
Easy to use, clean and produces unbeatable espressos.
Ilsa – Neapolitan Stainless Steel Coffee Maker 6 Cup Size: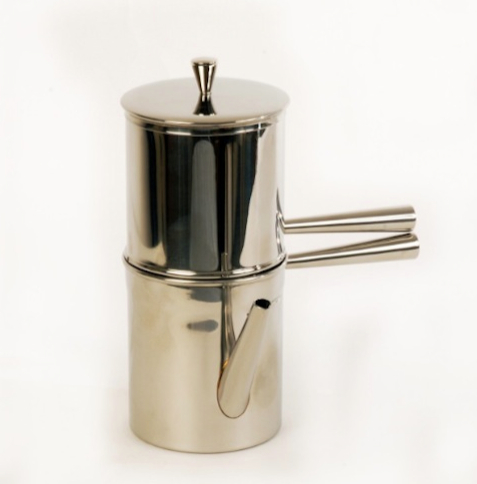 Made in Italy, the home of espresso.
Holds 6 cups of coffee.
Uses the traditional flip drip method to create authentic Italian coffee.
Stainless steel body and filter ensure durability.
The original way to make coffee.
Click here to learn more about this pot, read customer reviews and buy it.
The four moka pots above are the pinnacle of traditional coffee making at home and offer long term durability combined with stylish design and, of course quality coffee. Creating authentic Italian coffee at home has never been easier or more enjoyable.
Common Questions:
Is Moka Pot Coffee as Strong As Espresso?
I know a moka pot is also referred to as a stovetop espresso maker, but is moka coffee really the same as espresso? Well, not exactly. But it's close enough! Espresso shots are made nearly the same way as moka coffee, both are the product of forcing water through coffee ground by pressurizing. The difference is, Espresso machines use way more powerful pressure than moka pots. Moka pots produce coffee nearly as strong as an espresso shot in terms of ratio of water to coffee, however, it is not considered to be an authentic shot of espresso.
Is a Stainless Steel Moka Pot Better Than Aluminum?
Stainless steel is more durable than aluminum, so a stainless steel moka pot is going to hold up better over time for sure. But that's not the only advantage of a stainless steel moka pot… like mentioned earlier in this post, if you have an induction stovetop, then stainless steel is the only way to go as an aluminum pot won't work unless with a gas or electric stovetop.
How Do I Choose The Right Moka Pot Size?
There are two things to keep in mind when coming to choosing the right size:
Moka pot sizes are calculated using standard European espresso cup size and not your average cup size of 4 oz or 8 oz. So a cup size by Moka pot capacity is about 1.3 oz or so. So, if you buy a 6-cup moka pot, you'll be able to make a single standard cup of 6 oz or 10 oz or so.
When brewing using a moka pot, the filter has to be filled to the max capacity for it to brew. Which means, you can't buy a larger pot and brew less coffee in it. Buying a 30 oz moka pot, for example, means you'll have to brew that amount every time you use the pot. So, make sure you pick the right size for your needs!
Why Does My Moka Pot Coffee Taste Bitter?
If you've finally tried brewing using a moka pot and the results were unpleasant, here's what could have gone wrong:
The grind size is not correct: if your coffee is too better, try making the grind a bit more coarser and try again. With coarser coffee grind, the flavor isn't drawn too quickly from the coffee ground, so there is less chance of it becoming better.
Make sure you use fresh coffee or try a medium roast.
Don't keep your coffee brewing for too long. When brewing using a moka pot, always use pre-heated water, this way you don't have to keep the pot over the stove for too long and it will brew quicker.