Cuisinart's Brew Central coffee makers are definitely great in what they do, but when it comes to buying one, you're most likely to get confused over the difference between them. In this post, we'll talk about two Brew Central models, the DCC-2650 and DCC-1200 and how they compare to each other.
Cuisinart DCC-2650 vs. DCC-1200, What Is The Difference?
Similarities:
12-cup coffee makers
Ability to brew 1 to 4 cups.
Brew pause feature allows you to pause the brewing process to enjoy a cup of coffee without waiting for the brew process to finish.
Full automatic 24 hrs programmability. Auto on/off, digital clock.
Adjustable carafe heating element temperature.
Self cleaning option.
Includes permanent gold tone filter and water filters.
Difference:
The DCC-2650 allows you adjust the strength of  your brew from regular or bold. This option is not available in the DCC-1200.
The DCC-2650 features Cuisinart's Extreme Brew technology, which brews 25% faster.
Which Should I Buy? The DCC-2650 or DCC-1200?
As you can see, the difference is quite minor. The two coffee makers are almost identical except for the ability to select the strength of the brew on the DCC-2650, which basically means it will process the brew in a slower manner so it's more bold in flavor. If you like your coffee strong, you're most likely to appreciate this feature and the DCC-2650 should be your choice. Otherwise, the DCC-1200 should be just as good.
Cuisinart DCC-2600 vs. DCC2650, Is There a Difference?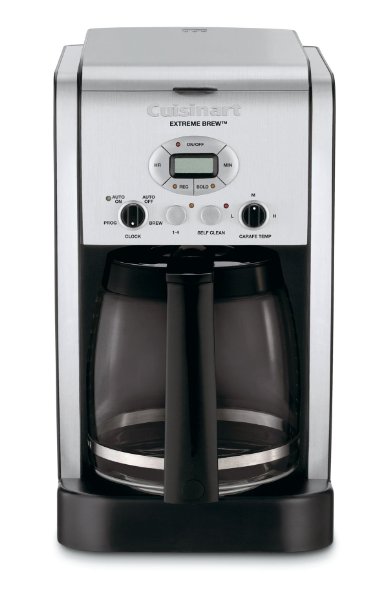 The DCC-2600 is exactly like the DCC-2650 in every function, except for:
The DCC-2600 brews 14 cups vs. 12 cups for the DCC-2650.
The DCC-2600 does not feature the Extreme Brew feature for faster brewing process.