The Bunn MCU single-serve brewer is often compared to the Keurig K75, which is another single-serve brewer. So in this post, we'll be talking about the features of each of these coffee makers and highlight their differences so you can decide which is better for you and your daily use.
Bunn MCU vs. Keurig K75 Single Serve Brewers:
We've talked in details about the Keurig K75 brewer in this post comparing it to the Keurig K65. So we'll start our comparison with the BUNN MCU Brewer: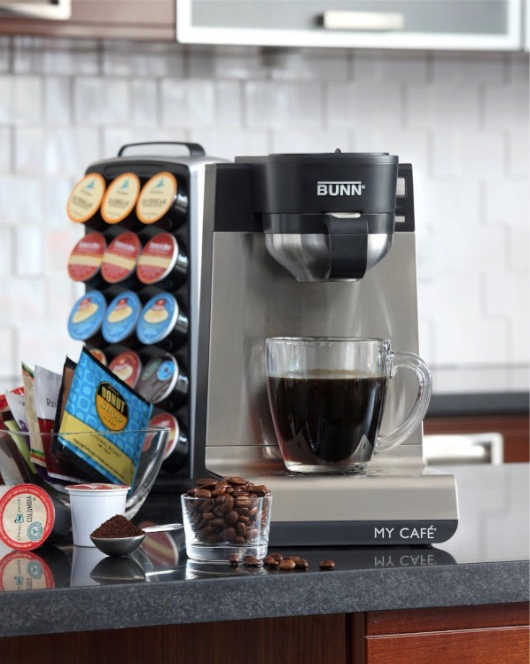 It's a multi-use single-cup coffee maker that can brew K-Cups, ground coffee as well as E.S.E pods.
Cup sizes vary from 4 oz to 14 oz.
Brews in under a minute.
Ability to dispense hot water for other uses
Ability to adjust the flavor of the coffee or tea you're brewing from mild to bold.
The BUNN MCU gives you a lot of variety when it comes to coffee or tea brewing. The fact that it can accommodate ground coffee, e.s.e and K-Cups allows you to choose from thousands of coffee and tea options, which is something any coffee lover would love. Being able to dispense hot water immediately also allows for instant preparation of things like noodles or soup.
How The BUNN MCU Brewer Works:
It has a fairly uncomplicated process and interface.
The machine features only two buttons, a Brew button and a Pulse button, which is used to slow down the brewing process for a bolder cup of coffee.
It brews exactly the amount of water you put in, the water tank is labelled with water capacity size to help you fill it correctly.
It has 4 interchangeable drawers for ground coffee, k-cups, e.s.e pods and for hot water dispensing.
Watch this video to see it in action:
How Is The Keurig K75 Different Than The BUNN MCU?
The Keurig K75 can only brew K-Cups. You can also use your choice of ground coffee by using a refillable K-Cup.
It has 5 brewing size options, from 4 oz and up to 12 oz. You can select the cup size from the LCD screen and it will automatically brew it.
It has a 72 oz water tank, so unlike the BUNN MCU, the machine draws what it needs for your required cup size and keeps the rest.
Comes with a water filter kit.
Ability to adjust brew temperature.
Clock and timer options available in the settings.
Which Should I Buy? The BUNN MCU or Keurig K75?
While the Keurig offers more advanced features, the BUNN MCU offers more coffee and tea variety, so:
If you want to have more options to the type of coffee you want to brew (K-Cups, Ground or ESE), and willing to overlook the simplicity of its controls, the BUNN MCU would be a good option for you.
If you're looking for a more automated process, not having to fill the water tank at every use, you'll be quite happy with the Keurig K75.
BUNN MCU vs. iCoffee, What's The Difference?
iCoffee is an entirely new way of brewing a K-Cup pod, it is different than BUNN MCU and Keurig, as well.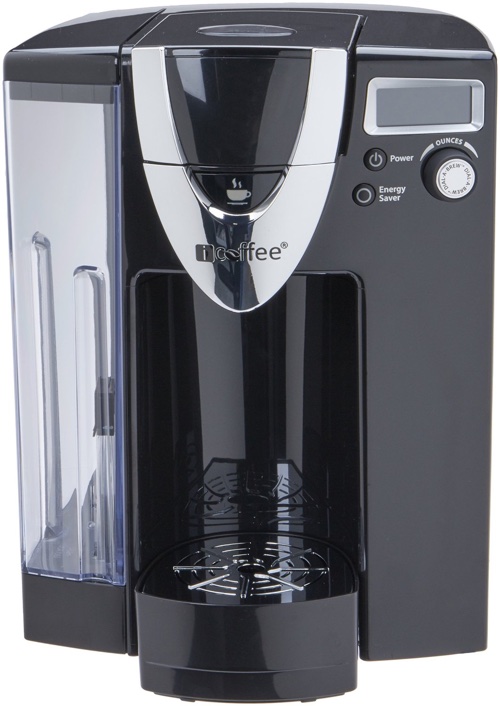 iCoffee's single-cup brewers use a SpinBrew technology that allows the brewer's needle to spin, steam and stir inside the K-Cup. According to iCoffee, this allows the coffee to brew faster, hotter and smoother.
So while the Bunn MCU is a single-serve K-Cup brewer (that also does ground coffee and E.S.E pods), the iCoffee is more comparable to a Keurig brewer, although it's the only brewer with this SpinBrew technology.