Mr Coffee is one of the most popular brands for drip coffee makers. While it now makes other coffee machines like espresso machine or single serve brewers, it's still mostly famous for drip coffee machines. So in this post, I will be answering a collection of most common questions about Mr Coffee's drip coffee makers.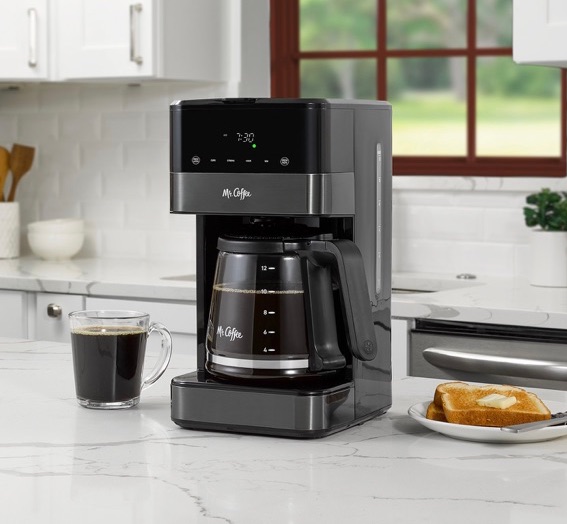 What Temperature Does Mr Coffee Brew At?
Mr Coffee drip coffee makers can brew at temperatures ranging from 190 to 205 degrees Fahrenheit. In some models, the temperature of the water is adjustable and can be set as low as 140 degrees Fahrenheit for more delicate coffees. This allows users to customize their brew without having to buy a separate machine.
What Does the Strong Brew Button on Mr Coffee Do?
Like many other machines and brands, the 'strong brew' button, or sometimes called the 'bold' button simply slows down the brew cycle to allow to water to steep the coffee grounds for a longer time, which results in a stronger tasting cup of coffee.
What is the Fresh Brew Timer on Mr Coffee?
The Fresh Brew Timer is a feature that counts down 2 hours from when the coffee was brewed. So it gives you a quick indication of how fresh is your coffee or how long it has been sitting.
What Is Delay Brew on Mr Coffee?
This feature is what is mostly known as auto brew timer. Delay Brew is what allows you to program the machine to auto brew your coffee up to 24hrs in advance. If you like waking up to a fresh pot of coffee ready for you to enjoy, this is the feature you'll use to set the machine to start brewing at a certain time.
What Kind of Coffee Does Mr Coffee Use?
You can use any type of coffee you like with your coffee maker. Whether you prefer light roasts, medium or dark roast. The only thing you'll want to make sure of is that the beans are grind correctly. For drip coffee makers, the best grind size is medium to medium coarse. Never use fine grinds because it would lead to really slow brewing and will most likely overflow your brewing basket.
How Much Coffee To Use for Mr Coffee?
The amount of coffee you'll have to use will depend on the quantity you want to brew. But it's important to note that there's no 'set' ratio to make a perfect pot of coffee, you might want to add more or less grounds depending on the taste you want in addition to the quantity.
Here's a quick table for your reference:
| | |
| --- | --- |
| Number of Cups | Amount of Coffee |
| 4-Cups | 3 tablespoons |
| 6-Cups | 4.5 tablespoons |
| 8-Cups | 6 tablespoons |
| 10-Cups | 7.5 tablespoons |
| 12-Cups | 9 tablespoons |
| 14-Cups | 11.5 tablespoons |
Is Mr Coffee's Pot Dishwasher Safe?
Yes, most Mr Coffee coffee makers have a glass carafe that is dishwasher safe. However, you should always check your manual before putting any of the parts in the dishwasher to make sure they are dishwasher proof.
Is It BPA-Free?
Yes, all Mr Coffee products are BPA-free. So rest assured that you and your family can enjoy a cup of coffee without having to worry about any potential health risks.
Do I Need Filtered Water for My Mr Coffee?
It is not necessary to use filtered water with your Mr Coffee machine. However, it is recommended that you use bottled or filtered water for better tasting coffee and to avoid any mineral buildup in the pot over time.
Are Mr Coffee Makers Made in the USA?
While Mr. Coffee is an American company, they don't manufacture their products in the US. Most of their machines are made in China.
What Does the Clean Button On Mr Coffee Do?
The Clean button on Mr Coffee coffee makers is a setting that will start the brewing cycle with water only. This helps clean out any sediment or mineral buildup in the machine's internal parts, such as the heating element or filter holder. It is important to use this feature every few months to keep your coffee maker running properly.
Can You Use K-Cup Pods in a Mr Coffee?
In a drip Mr. Coffee machine, you can't use K-Cup pods. But Mr Coffee does make single-serve coffee machines that are compatible with K-Cup pods.
If you need to make a pot of coffee using a Mr Coffee drip machine and only have K-Pods available, you can take the lid off these pods and empty the coffee ground into the Mr Coffee filter then brew as usual.