If you use your Keurig brewer often, maintaining and cleaning the needle, nozzle and internal parts of your Keurig is a must to ensure that your coffee taste the same. As you use more K-Cups, especially if you're switching between drinks (hot chocolate, tea, apple cider…), some of that brew's residue will remain in the machine.
The obvious way to clean that residue will be to run a cycle without inserting the pod to run hot water through the nozzle. But overtime, that will not be enough as oils and residue continue to build up.
How To Clean Your Keurig Needle and Nozzle The Easy Way:
Cleaning kits that include descaling solutions and water filtration tabs are great for filtering water and cleaning the machine's heater/water reservoir. But descaling is done every few months, and you'll need to keep the needle/nozzle clean more often than that, especially if you use your machine daily.
For such a task, there are Cleaning Pods. These pods, which look exactly like a K-Cup pod, are inserted and "brewed" in the exact same way. The cleaning cups, which include cleaning solution, will mix with the hot water and run through the needle and nozzle for a thorough clean.
Urnex Keurig K-Cup Machine Cleaner:
Pack of 5 pods.
Cleans oil buildup and residue inside Keurig coffee machines.
Compatible with Classic Keurig coffee machines only (not compatible with Keurig 2.0)
Phosphate-free and odorless. Biodegradable.
Click here to learn more about Urnex Keurig K-Cup Cleaner, read the customer reviews and buy it.
Descaling and Maintenance Kit for Keurig Brewers: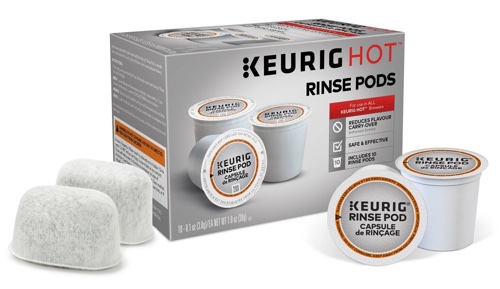 Set of 10 cleaning pods and two replacement filters (4 months supply).
Brews just like a K-Cup. Works on reducing flavor carry-over between brews, cleaning build-up and residue.
Compatible with Keurig 2.0 and Keurig Classic machines as well as any other K-Cup brewing machines.
Water filters are used to clean your water from chlorine and each filter should last 2 months.
Click here to learn more about this set, read the customer reviews and buy it.
Maxiliano Cleaning Kit for Keurig Brewers:
Two step solution for cleaning and descaling your machine.
First step is a cleaning pod, second step is a descaling tablet.
Effectively removes all stain and limescale.
Works with all Keurig brewers. May not work with SOME Keurig 2.0 brewer, in which case, you can ask for a refund.
Non-toxic and no after taste.
Pack includes 1 cleaning pod and 2 descale tablet.
Common Questions and Answers:
– Can I Just Use Vinegar to Clean My Keurig?
Using vinegar to clean and descale coffee machines, especially Keurigs, is a common thing. But it is not as effective as you might think. Vinegar is a strong enough acid to kill some bacteria and get rid of some calcification, but it is not strong enough to get rid of oil build up from coffee or brew residue. Plus, Vinegar has a very strong smell and taste. It will require you few rinses to get rid of the smell and taste. Otherwise, you risk brewing coffee with vinegar taste in it.
– Is Using a Cleaning Pod The Same as Descaling?
No, it is not the same. A cleaning pod is used to get rid of oil build up and residue and taste transfer caused by brewing different type of pods. It helps in cleaning the needle (which punctures the K-Cup) and the nozzle and it is recommended that you use it on a weekly basis. On the other hand, descaling is done less frequently (over 6 months periods and more) and is done mainly to avoid calcification.
– Is Cleaning My Keurig's Nozzle/Needle Necessary?
If you want to maintain the quality of your coffee drinks and keep your machine working for a longer time, then yes, frequent cleaning of your Keurig is necessary.