Timers, or programmable clocks on coffee makers, are a feature usually found in drip coffee makers. It's used to program the machine to auto start at a certain hour whenever you need it on and ready to go. While some machines can use this feature to auto brew, others only auto start the machine.
Do Keurig Brewers Have a Timer?
If you need a Keurig machine with a timer, the good news is, there are a few of them. There's a couple made by Keurig, and another by the brand Cuisinart. It's important to note that Keurig's auto on is not an 'auto brew' feature. It turns the machine on at a set time, but it will not automatically brew a coffee.
K-Elite – Keurig with Auto On Timer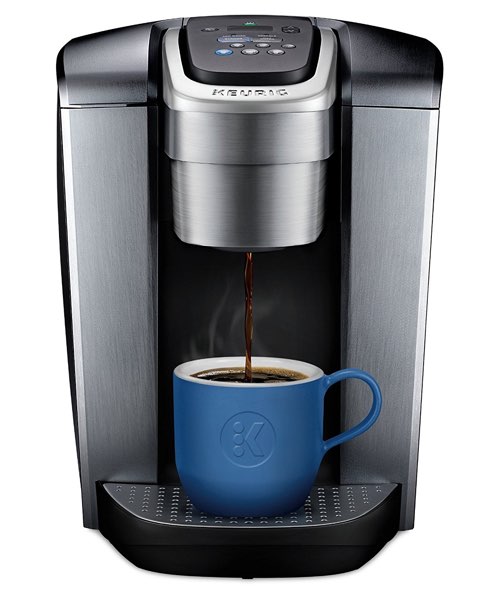 The K-Elite is one of Keurig's premium brewers with top notch features. It's also one of Keurig's larger machines, which is a perfect choice for a big household.
Some of K-Elite's features include:
five serving sizes: 4, 6, 8, 10 and 12 oz
Strength control and temperature controls: adjust your brew as you like.
Hot water on demand, which you can use for instant meals.
When it comes to programmability, you have the auto on and off features, which are pretty self explanatory. Temperature settings allows you to set the temperature of your brew between 187 to 192 degrees.
One great, but sometimes overlooked feature, is the High Altitude setting. This features is used at locations higher than 5,000 feet. It takes into account the fact that water's boiling point is different at higher places, and lowers the temperature of the brewers boiler accordingly to ensure the best brew.
K-Duo and K-Duo Plus – Keurig with Programmable Auto On and Auto Brew
These are Keurig's dual coffee makers, which means they are able to brew single-serve cups using K-Cups or brew a full carafe using coffee grounds.
The K-Duo line actually has a programmable auto on and auto brew, but the catch is, it works with carafe brewing only. So that part of the machine works like a traditional drip coffee maker.
Other features of the K-Duo
4 serving sizes for single serve brewing: 6, 8, 10 and 12 oz
Up to 12-cups carafe brewing
Use K-cup pods or ground coffee to brew your coffee.
Includes a glass or thermal carafe (depending on the model).
Cuisinart SS-15
This brewer by Cuisinart has been around for many years, and has proven to be a great one. It actually introduced 5 serving sizes and hot water on demand even before Keurig did.
Like Keurig's models, the Cuisinart has auto on feature, but it only brings the machine on. It does NOT brew automatically.
Here are some features I like about this model:
5 cup sizes: 4, 6, 8, 10 and 12 oz
Includes a refillable pod for ground coffee brewing
The only thing missing from this brewer is strength control, which is quite a shame.
Why a Timer or Auto Brew Is Not Necessary on a Keurig
You must be wondering, why isn't there enough Keurig brewers with a timer? And why none of them Auto brew a K-Cup?
Keurig brewers actually are pretty quick to start up. They're also pretty quick to brew a cup, with many of the newer models brewing a cup in under a minute, and can take up to 2 minutes using older models. So the whole process, start to finish won't take a lot of time. There's no measuring or scooping, no placing in a filter or waiting for 6 to 10 minutes of a carafe to brew, like in most drip coffee makers. With a Keurig, you pop in a pod and hit the brew button. The whole thing shouldn't take 5 minutes of your time.
Now the issue with auto brewing is, even if you are willing to load in the pod ahead of time, if the pod is brewed at a certain time and you're not there to drink it, it will get cold. Unlike coffee makers, Keurigs don't have a way to keep a coffee hot until you reach it, they're not designed for that.
Does the Keurig K-Supreme Have a Timer?
Smart Keurig models like K-Supreme SMART and K-Supreme Plus SMART allow you to schedule your brew ahead of time using the smart app. It does not have a timer, but uses the smart connectivity feature to brew remotely using the app or schedule the brew.
Personally, I find the same issue I mentioned above still applies.