Are you torn between Keurig's K-Supreme Plus and other Keurig models? In this post, I will cover everything you need to know about the K-Supreme Plus from features, use and comparisons.
If you want the key notes of this post, here they are: 

- The K-Supreme Plus is a great pick for its customizations of temperature settings and brew settings as well as having all cup sizes Keurig offers. 

- Between the K-Supreme Plus and K-Supreme Plus Smart, I find the Smart features of be useless, but the expanded customizations on the smart model to be great. 

- K-Supreme Plus or K-Elite? If you want a hotter brew, the K-Elite wins. K-Supreme Plus SMART is even hotter than the K-Elite. 

- K-Supreme Plus or Nespresso? These are not even comparable, even for the Vertuo which can make coffee. If you want drip style coffee, the Keurig is a better pick. Nespresso machines, whether Vertuo or OriginalLine, shine as an espresso machine and are best for drinks like espresso, cappuccinos or latte.  

Key Features of the K-Supreme Plus
This model (Released July 2021) packs a lot of features that gives it an advantage over basic Keurig brewers. It allows for cup customization, programmability, multiple cup sizes and Keurig's MultiStream Technology which promises a more flavorful cup.
Brew sizes: 4, 6, 8, 10 and 12 oz
Water reservoir capacity: 78oz
Premium design with stainless steel wrap.
Customization: K-Supreme Plus allows you to select from three temperature settings (from 160 to 172 F) and three brew strength. You also get the Over Ice button, which optimizes the brewing settings from temperature to strength so it works best over ice (won't melt the ice right away and won't taste watered down).
Programmable Favorites: If your K-Supreme Plus is going to be used by different users, or if you personally have multiple favorite settings, the machine allows you to save those settings so you can brew to your customization with a press of a button. This models allows for three 'user favorites' to be saved and used with individual buttons.
MultiStream Brew Technology: For an easy understanding of this technology, it's basically a redesign of the needle that punctures the K-Cup pods to brew them. Instead of a single needle, Keurig now used a 5-point needle, so that's five punctured points in the pod instead of one, so it evenly saturates the pod with water and extracts more flavor.
K-Supreme Plus or K-Supreme Plus SMART?
| | | |
| --- | --- | --- |
| | K-Supreme Plus | K-Supreme Plus SMART |
| Brew Sizes | 4, 6, 8, 10, 12 oz | 4, 6, 8, 10, 12 oz |
| Strength Settings | 3 | 5 |
| Temperature Settings | 3 | 6 |
| Over Ice Setting | Yes | Yes |
| BrewID | No | Yes |
| WiFi Connection | No | Yes |
| Programmable Favorites | 3 | 10 |
| Reservoir Capacity | 78 oz | 78 oz |
Another version of the K-Supreme Plus is the Smart edition. In addition to the feature above, it has:
More customization: you get to select from 6 temperature settings (ranging from 183 to 202F) and 5 brew strength. It also has the Over Ice setting. [ read the exact temperature numbers here]
It is WiFi connected allows you to manage your favorite recipes, auto order pods, schedule brews in advance or brew from anywhere.
BrewID and Smart Auto Delivery: this feature automatically recognizes the pod you are brewing and adjusts the brew settings to match it to give you the best result for that particular pod. You'll still have the option to readjust as you prefer. Smart delivery is an optional service that counts your pods as you use them, detects when you are running low and orders your favorite pods for you.
Programmable Favorites: instead of three users, this model allows for ten saved customizations.
Is Smart Auto Delivery the Same As Auto Delivery?
No. Auto Delivery and Smart Auto delivery are not the same. Auto delivery is a subscription service from Keurig that will deliver pods at your set schedule, and it's available to any Keurig user.
Smart Auto Delivery is available with Smart WiFi connect brewers only. After you set it up, and with the help of BrewID, the machine starts counting your pod usage. As soon as you start running low on your pods, it will place an order for you. This could be within a week, two week or whenever you go through your pods. It doesn't work with a set schedule like your average auto delivery subscription. You can read about it in details here.
Is K-Supreme Plus a Keurig 2.0 Brewer?
Keurig 2.0 machines are now an outdated line of brewers that have been discontinued. They were known for brewing pods up to a carafe's size as well as many several cup sizes. The K-Supreme Plus is not a 2.0 brewer, that line of models no longer exists.
Does K-Supreme Plus Use Regular K-Cups?
Yes, it's compatible with all type of K-Cup pods from any brand and for any beverage, and not just coffee. It is also compatible with My K-Cup refillable pod.
Your machine should come with a pack of pod samples, but the refillable pod is sold separately.
Do I Have To Use a Water Filter The the K-Supreme Plus?
If you're using bottled or filtered water, the water filter in the reservoir is not necessary. If you plan on using tap water, it's recommended that you use the water filter for better tasting coffee and to save the internal parts of your machine from possible deterioration over time. Don't use distilled water for Keurig or any other coffee maker.
Will the K-Supreme Plus include a Water Filter?
Yes, your K-Supreme Plus should include a water filter with your purchase.
Does K-Supreme Plus Have an Internal Tank?
Like most Keurig machines, K-Supreme does have an internal tank. The tank holds some ready-to-use hot water so it brews your coffee as fast as possible. Not your entire water reservoir will be held in this tank, but just enough to brew a couple of cups, after that, your Keurig will draw another batch of water and keep it hot in the tank.
Comparisons
What Is The Difference Between K-Supreme and K-Supreme Plus?
| | | |
| --- | --- | --- |
| | K-Supreme | K-Supreme Plus |
| Brew Sizes | 6, 8, 10, 12 oz | 4, 6, 8, 10, 12 oz |
| Strength Settings | 1 | 3 |
| Temperature Settings | – | 3 |
| Over Ice Setting | Yes | Yes |
| BrewID | No | No |
| WiFi Connection | No | No |
| Programmable Favorites | No | 3 |
| Reservoir Capacity | 66 oz | 78 oz |
I have a post dedicated to that comparison which you can read here. But here's the quick rundown of differences between these two models:
Cup Sizes:
The Plus version of the K-Supreme has an additional 4 oz cup size. The rest of the serving sizes are the same.
Customizations (Brew and Temperature Settings)
This is where the K-Supreme Plus shines over the K-Supreme. With the Plus, you get to choose from 3 temperature settings and 3 brew settings. The PLUS SMART expands thing even further, with 5 brew settings and 6 temperature settings. But we're focused on the K-Supreme PLUS here and not the smart version.
For brew strength settings: the K-Supreme has the Strong Brew setting, which works on making a stronger cup of coffee. And that's as far as it goes. But on the K-Supreme Plus, you can select from three strength settings.
Temperature settings are not available on the K-Supreme, but both models have the Over Ice setting. Please note that 'over ice' isn't a setting that will brew cold, it just uses lower temperature than a hot brew. You can read all about Ice setting on Keurig brewers here.
Keurig K-Supreme Plus vs K-Elite – What's The Difference?
| | | |
| --- | --- | --- |
| | K-Supreme Plus | K-Elite |
| Brew Sizes | 4, 6, 8, 10, 12 oz | 4, 6, 8, 10, 12 oz |
| Strength Settings | Yes (3 settings) | Yes (3 settings) |
| Temperature Settings | Yes (3 settings) | Yes (3 settings) |
| Over Ice Setting | Yes | Yes |
| Hot Water on Demand | No | Yes |
| Programmable Favorites | 3 Users | No |
| MultiStream Technology | Yes | No |
| Reservoir Capacity | 78 oz | 75 oz |
| Dimensions | 10.63″D x 16.02″W x 14.33″H | 9.9″D x 13.1″W x 12.7″H |
These two are actually quite close when it comes to features, but there are still some differences in the details.
Temperature Settings:
Both models have selectable temperature settings, but the temperature range in each brewer is different:
K-Supreme Plus: between 160 to 172F
K-Elite: 187 to 192F
So if you want hotter brew, the clear winner here is the K-Elite.
MultiStream Technology: As mentioned above, this refers to the design of the needle in the brewer, and whether it's a five-point needle or a single needle.
Technically speaker, this feature should make a difference in the quality of the brew. But in reality, the difference is barely noticeable. So I wouldn't give this feature a lot of weight when deciding between models. Instead, I'd go for selectable strength settings, which luckily, both K-Elite and K-Supreme Plus have.
Programmable Favorites: With the customizations these two brewers have, the K-Supreme Plus allows you to save your customizations under a 'profile' of some sort, for up to 3 users. So with a single push, you can readjust the brew settings, temperature and cup size. With the K-Elite, this isn't available, so whenever you want to use different settings, you'll have to select them individually. This is a feature that I really like, especially for a moody person like myself who changes cup sizes and brew settings frequently. Saving my favorite settings under a button is very convenient and time saving.
Do You Pick K-Supreme Plus or K-Elite?
Of course, it all comes down to what you need. If temperature is a big deal to you, then the the K-Elite is the clear winner since it brews hotter than the K-Supreme Plus.
For Brew Strength settings, both are equal.
Programmable Favorites is another winning feature for me, but it could be something that you personally don't need.
Keurig K-Supreme Plus vs. Nespresso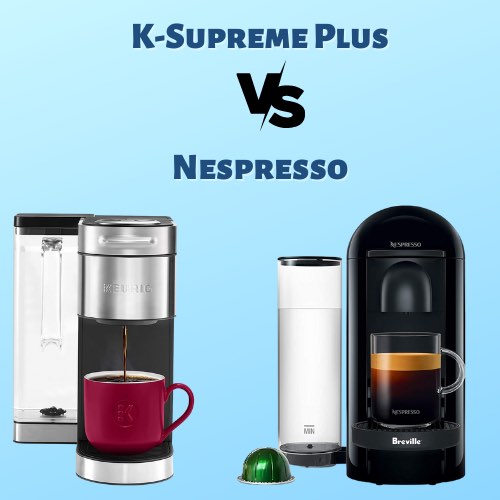 As you might know, Keurig and Nespresso are two different type of brewers. Keurig is a coffee and beverage brewer while Nespresso is an espresso maker and with their Vertuo line, they expanded to be a coffee maker, too.
For the sake of this comparison, I will use Nespresso Vertuo as the compared to brewer.
Vertuo is a 5-cup size brewer that brews espresso, double espresso, gran lungo and coffee, and in the Next model, you can access to a carafe size. It's an entirely different world of brewing that Keurig, which brews coffee, tea, hot chocolate and many other beverages.
Pod Compatibility:
Nespresso Vertuo's pod are sold from Nespresso only and not available from 3rd party brands. So that limits your choices in comparison to Keurig, which pods come from many famous coffee brands like Dunkin', Starbucks, Green Mountain and more.
In a nutshell, here's who should buy what:
If you want a coffee and beverage maker, nearly unlimited choices of pods, the ability to use your own coffee grounds, Keurig is your best pick.
If you want espresso drinks, want to make coffees like lattes or cappuccino, this is what Nespresso does best. While their coffee is not bad, it's not comparable to a drip coffee. It tastes different due to their brewing process, so it's not something you go for if you want drip style coffee but in a pod.
The Wrap Up
To answer the main question of this post, is Keurig K-Supreme Plus Worth It? If you want room for customizations, a way to save your programmed settings and variety of cup sizes, then yes, it's worth it over the K-Supreme model.
Is the SMART version worth it over the Plus version?
What I like about the SMART version is the expanded number of customization settings: more temperature settings and more strength settings. There's also more profiles to save your customizations.
Personally speaking, I don't find the Smart features to be useful at all:
WiFi connectivity that allows for remote or scheduled brewing, while it sounds cool, it feels redundant. With single-serve brewing, you have to be there to get your cup as soon as its ready, since there's nothing to keep it warm or hot for you.
BrewID sounds good, too. But it's not necessary great. It's great that the app can suggest settings for the pod to taste its best, but it's not always guaranteed you'll like those settings and you could change them eventually.