When buying a K-Cup brewer, you have the option of buying either a Keurig machine or a brewer from another brand. One of these brands that make K-Cup brewers is Mr. Coffee.
Why Choose a K-Cup Brewer From Another Brand?
Whether you choose a Keurig or another brand, it all comes down to what you want out of your K-Cup brewer and how much is your budget.
Choosing another brand could offer you a brewer at a price that is better than Keurig's. Or you can get features that aren't available in Keurig machines. For that reason, it is always good to see what options you have before settling on a brewer or a brand.
Comparing Mr. Coffee Carafe and Single Serve Brewer to Keurig
For this comparison, I have chosen to compare two popular products from each brand:
Mr Coffee Carafe and Single Serve Coffee Maker
And, Keurig K-Duo Plus Carafe and Single-serve Coffee Maker
Why these two?
Both of these products have similar features, nearly the same, but coming from two different brands at two different price ranges, it is worth looking two.
Mr. Coffee Single Serve and Carafe Coffee Maker vs. Keurig K-Duo Plus
| | | |
| --- | --- | --- |
| | Mr Coffee | K-Duo Plus |
| Carafe Size | 10 Cups | 12 Cups |
| Carafe Material | Stainless Steel | Stainless Steel |
| Carafe Serving Sizes | 4, 6, 8, 10 cups (5oz per cup) | 6, 8, 10 and 12 oz |
| K-Cup Serving Sizes | 6, 8, 10 and 12 oz | 6, 8, 10 and 12 oz |
| Strong Brew | Yes | Yes |
| Auto Brew | Yes, for carafe and single serve | Yes, for carafe only |
| Water Reservoir Capacity | 50 oz | 60 oz |
| Water Filter Included | Yes | Yes |
| | Check Price on Amazon | Check Price on Amazon |
Similarities:
Both Mr Coffee and Keurig's K-Duo Plus can brew both carafes and single servings of coffee. Carafe brewing uses ground coffee, while single serve brewing can use either K-Cup pods or ground coffee.
Both machines come with a thermal stainless steel carafe.
Both have a Strong brew option.
Both include a water filtration handle and cartridge that fits inside the water reservoir.
Both have the same single cup serving sizes: 6, 8, 10 and 12 oz.
Differences:
Capacity of the carafes are different. Mr Coffee holds 10-cups while K-Duo Plus does 12-cups.
Timer programmability is available on both coffee makers. However, Mr Coffee allows you to set an auto start timer for both carafe and single-serve options, while K-Duo Plus only has this option for carafe brewing.
Since both machines have different carafe capacities, they have different water reservoir capacities, too. Mr Coffee has 50 oz reservoir while K-Duo Plus has 60 oz reservoir.
Design:
When it comes to design, K-Duo Plus wins. It has a modern feel to it that Mr Coffee lacks. Dimension wise, Mr Coffee is 7.36″D x 15.16″W x 15.43″H and K-Duo Plus is 11.7" D X 8.2" W X 14.19" H. Overall, K-Duo Plus is more compact, and thanks to its repositionable reservoir, that depth is not static and will depend on whether you place the reservoir on the back or on either side.
Controls and Buttons:
Both models have quite comparable options, so you should expect somewhat similar buttons on each brewer.
Mr Coffee has all its buttons on the base of the machine. You'll find a small display that shows clock and brew size. The brew size will change from cups to oz, depending on which adapter you are using. If you have the carafe filter basket, it will automatically switch to cups, but once you switch it for pod adapter, it will show you sizes in ounce. There's also the Strong button, Brew Later button along with the buttons to set hour and minutes for your auto brew.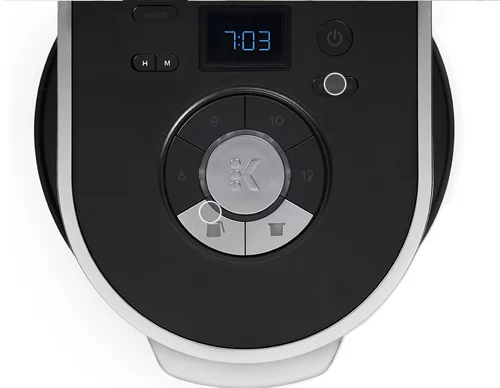 K-Duo Plus has all its buttons on the top of the machine. You will find two selectors for either carafe or pod brewing, and you'll see an individual button for each brew size. If you select the Carafe option, then each button will mean 'cups', but if you pick the Pod option, the same buttons will mean ounces. You'll also find your Strong button, a small display with clock, and H and M buttons for hour/minute programming.
Included Accessories:
K-Duo Plus comes with a water filter handle, water filter and a mesh reusable filter for carafe brewing. You'll also get a pack of 6 k-cup pod samples. Refillable pod filter is not included.
Mr Coffee includes a water filter kit, and a refillable pod filter. But it does not include a mesh filter for carafe brewing.
Which Should You Buy, Keurig or Mr Coffee?
When it comes to these two brewers, they're nearly identical when it comes to function. The differences mostly are in capacities: You get more carafe coffee with the K-Duo Plus. But for single-serve brewing, both do the same cup sizes.
If you don't care much about the difference in capacity, I would suggest you really consider Mr Coffee's brewer. It is about half the price of Keurig's and you won't notice a difference in functionality or coffee taste.
Keurig's K-Duo Plus looks a lot nicer, it's sleek and modern and of course, can brew a larger batch of coffee. But when it comes down to functionality, they are nearly the same.