Features of DeLonghi Stainless Steel Conical Burr Grinder:

Choose from Fine, Medium or Coarse grind settings. You can select in-between those settings, too.
Choose from 6 quantity options: 2, 4, 6, 8, 10 or 12 cups.
Automatic shut off once grinding is complete.
4.2 oz capacity.
Stainless steel exterior.
Click here to learn more about this DeLonghi Burr Grinder, read the customer reviews and buy it.
Features of the Capresso Infinity Conical Burr Grinder: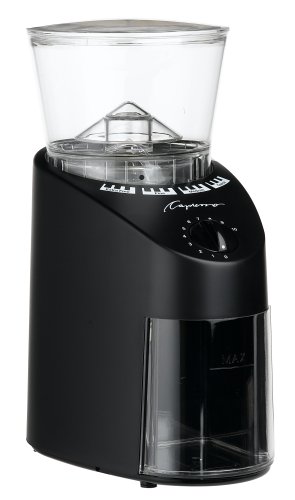 Commercial grade conical burr grinder.
Choose from 4 main grind settings: extra fine, fine, medium and coarse. Gives you a total of 16 settings (you can choose in-between).
Choose from 10 cup capacity, starting at 1 cup.
Bean hopper capacity: 8 1/2 oz.
Bean container capacity: 4 oz.
Plastic exterior (stainless steel available but more expensive).
Built-in timer, can be set to grind from 5 sec to 60 sec.
Click here to learn more about the Capresso Infinity, read the customer reviews and buy it.
Also available from: 1stInCoffee.com

DeLonghi Burr Grinder vs Capresso Infinity: What Is The Difference and Which Is Best?
Both grinders are quite similar, actually. We like the DeLonghi for these two features:
Its stainless steel exterior which makes it more durable.
It has more cup quantity (12 max.)
And it's actually less expensive than the Capresso. So if you're on a tight budget, this should be a great choice for you.
However, the Capresso does offer more grind settings, as it starts at a Extra Fine and goes up to Coarse. And the Built-in timer does give you more control over your grind. So if these two features would make a difference to you, then the Capresso should be your choice.