If your budget for a new espresso machine is at $500 and under, you're in for some really great options. If you're somewhat used to espresso machines and how they operate, a semi-automatic espresso machine would be a great option for you and you should be able to use it with ease. If you're a beginner, or looking for convenience without compromising quality, you'll absolutely love a fully automatic espresso machine, especially that it's available for under $500! (They usually cost over $1000).
So, let's have a look at our top picks for espresso machines under $500:
Breville The Infuser Espresso Machine: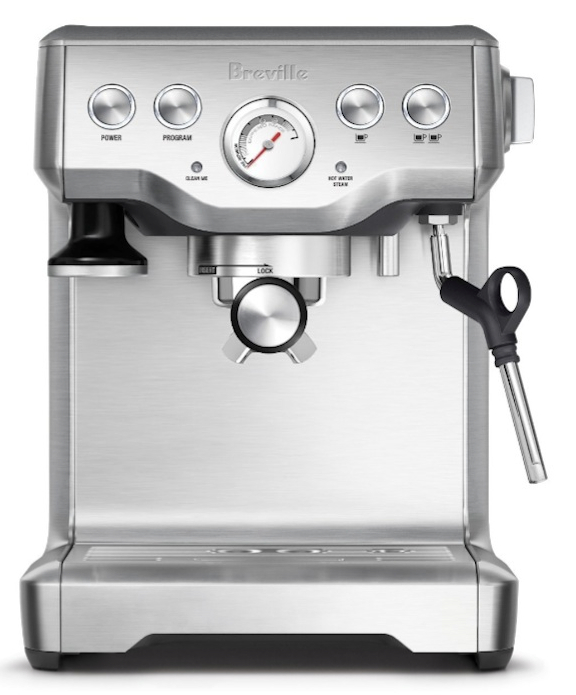 This semi-automatic espresso machine by Breville is quite stunning, and that is not something new when tit comes to Breville appliances. It's a semi-auto that gives you plenty of room to adjust your coffee drink as you like.
Features:
15 bar pressure pump.
Pre-infusion function applied low water pressure before extraction to expand the beans and give you an even extraction.
Stainless steel water boiler/ thermocoil heating system.
Auto purge function automatically adjusts water temperature for the best extraction after using steam.
Fully adjustable volume control.
Automatic and pre-sets can be re-programmed to your liking.
Included accessories: single & dual wall filter baskets, coffee scoop, stainless steel jug, cleaning disc & tablets, cleaning tool, water filter with holder.
Click here to learn more about the Breville Infuser Espresso machine, read the customer reviews and buy it.
Gaggia 14101 Classic Espresso Machine: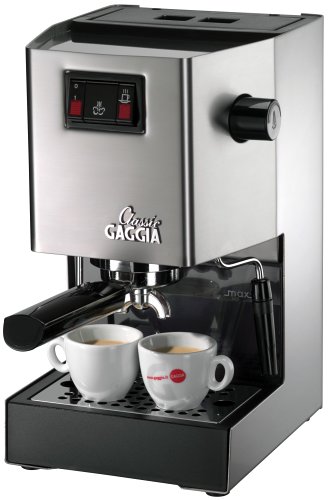 A true classic machine made by big Italian brand, Gaggia. Designed with commercial grade but for the home consumer, the Gaggia 14101 espresso machine is the perfect machine for a true at-home barista.
Features:
17 bar pressure pump.
73 ounce removable water tank.
Brushed stainless steel housing, brass grouphead and portafilter.
Portafilter baskets for single/ double shot or e.s.e coffee pods.
Swivel steam frothing wand.
Accessories included: tamper and measuring scoop.
Click here to learn more about the Gaggia 14101, read the customer reviews and buy it.
DeLonghi Dedica EC680M Espresso Machine:
The DeLonghi Dedica makes an excellent pick for a beginner. It's also a great choice for someone who is limited on counter top space, as this is one of the most compact espresso machines available.
Features:
Sleek design with stainless steel finish.
Thermoblock heats the machines up to ideal temperature in 40 seconds.
Automatic flow stop for espresso shot. Volumes can be reprogrammed.
DeLonghi's Cappuccino frothing system.
Built-in cup warmer.
Machine comes with coffee scoop, tamper and different size filters for single or double shots.
Available in two additional colors.
Click here to learn more about DeLonghi Dedica Espresso Machine, read the customer reviews and buy it.
Breville Infuser vs. Gaggia Classic, What's The Difference and Which Should You Choose:
We have a full comparison between the Gaggia Classic and the Infuser that you can read by visiting this page: https://coffeegearathome.com/gaggia-classic-vs-gaggia-baby-class-breville-infuser-which-is-a-better-choice-for-you/
To give you a quick idea of the difference:
The Infuser is a semi-automatic espresso maker, it has automatic functionality as well as manual ones. While the Gaggia Classic is fully manual.
Some of the Infuser's automatic features include Auto-Purge which adjusts the water temperature for you after steam use, this ensures the best espresso extraction. Its pre-infusion function saturates the coffee ground with a little bit of water to ensure the best flavor for espresso.
What About Breville Infuser vs Breville Barista Express?

The Breville Barista Express is sort of The Infuser's bigger brother. We have a review of it and a comparison of it and The Infuser in this post, but here's a quick recap:
The Barista Express is larger in size and has a built-in conical burr grinder to automatically grind your coffee right before brewing.
Being larger in size, it naturally comes with a larger water reservoir (67 ounce instead of Infuser's 61 ounce).