What Is a Dual Boiler Espresso Machine?
The term 'Dual Boiler' refers to an espresso machine that has two separate boilers, one for espresso extraction and another for steaming. Having a separate boiler for each task allows you to extract espresso and steam the milk at the same time, unlike a single-boiler espresso machine where there will be a short wait between each task.
This feature is normally available in commercial grade espresso machines, but there are a few options for home use. A dual-boiler espresso machine for home use is suited for some with a budget over $1000, as we're trying to offer you the best value and features, we went on a hunt to find something that won't break the bank but will give you everything you need for the perfect coffee at home.
The Best Dual-Boiler Espresso Machine for Home: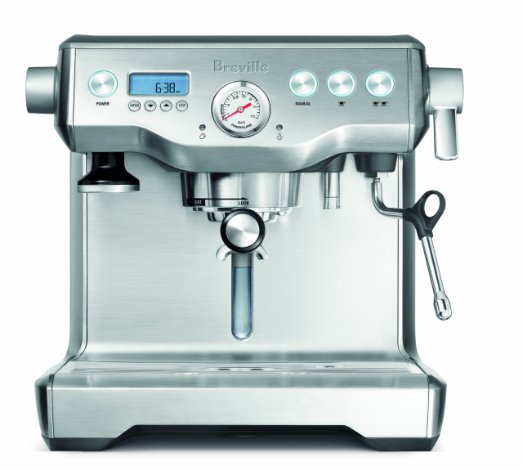 Our top pick for a dual espresso machine for home has got to be the Breville BES900XL, which is just a little over $1000. This semi-automatic espresso maker is packed with features that any home user would be able use, here are some of its features:
15 bar pressure Italian pump.
Dual stainless steel boilers for

simultaneous

coffee extraction and steaming.
Over-pressure valve limits extraction pressure for the best extraction result possible.
Electronic temperature control for the best water temperature.
Pre-set espresso shot volumes, can be reprogrammed. Manual option available, too.
Backlit LCD display for easy control of the machine.
Swivel stainless steel steam wand.
Dedicated hot water dispenser.
Built-in tamper.
Pressure gauge.
84 oz (2.5L)  removable water tank.
Included accessories: single wall filter baskets (1 and 2 cup), dual wall filter baskets (1 and 2 cup), integrated tamper, stainless steel frothing jug, cleaning disc and tablets, cleaning tool and allen key, water filter holder and water filters (1 year supply)
Click here to learn more about the Breville BES900XL, read the customer reviews and buy it.

Breville BES900XL vs. BES920XL: Which One Should I Buy?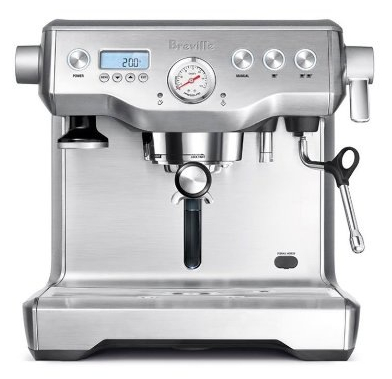 You might have noticed there's a new version of the BES900XL, the BES920XL with about $100 in price difference. What's the difference between these two and which one should you buy?
The BES920XL is a few extra features that could be worth the extra $100 for you. It has all the features we mentioned above, plus the following:
It allows you to adjust the steam boiler temperature, which gives you more power over your frothing.
Shot duration timer: you can input the exact time of the shot duration you want.
Easy at-home descaling feature.
Razor Dose trimming: a patented accessory that gives you the perfect coffee ground trim around the portafilter. This allows for a better shot extraction.
Click here to learn more about the BES920XL, read the customer reviews and buy it.