If you're planning on buying a Keurig coffee maker anytime soon, you'll actually love this offer Keurig has running on their website.
I know that the word FREE always makes people skeptical. Nothing is just free. And you're right! But this program by Keurig offers you a free coffee maker in exchange of your commitment to buying k-cup pods from them. Which is something you're going to do anyway! Keep reading to learn exactly how this works.
What Is Keurig's Free Coffee Maker Offer
This offer comes under their Starter Kit program (which you can read all about here). It has two type of offers:
You can get a free K-Select or K-Mini brewers. Or you can get other brewers for a discount of 50% off, which is also a great deal. But since we are talking about receiving a free Keurig, we'll focus on the K-Select and K-Mini.
How To Get a Free K-Select or K-Mini Coffee Maker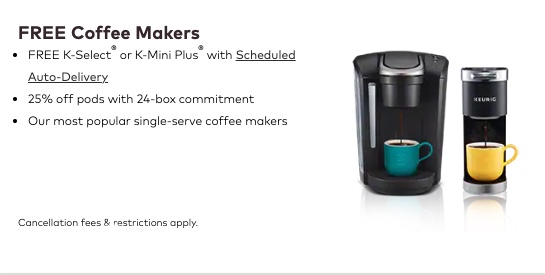 To get a free Keurig K-Select or K-Mini, you'll have to enroll in the Starter Kit program. Here's what this program involves:
In exchange of the free K-Select or K-Mini, you'll have to do two things:
You'll be automatically enrolled in Keurig's auto delivery program, which delivers pods to you at a scheduled time by you.
You'll have to commit to buying 24 boxes of pods via the auto delivery program within 12-months period.
You'll get 25% OFF your pod and coffee bag purchases as long as you are subscribed to the auto delivery program.
If you don't meet your commitment within the period of 12-months, or if you choose to cancel your subscription before meeting your commitment, Keurig will charge you for the retail price of the coffee maker.
So it's pretty much a coffee maker in exchange for your commitment to buying your pods from Keurig. You're going to be buying pods anyway, so it's a good deal if you know you can complete your commitment period without issues.
Here's What You Need to Do Step by Step
1- Go to Keurig.com, from the top menu, select Keurig Starter Kit, select FREE coffee makers and Get Started.
2- Your next step is to choose between Keurig K-Select or K-Mini. If you want to learn more about these machines read our post the K-select here and K-Mini here.
3- At this point, you are starting your auto-delivery. You'll have to select 4 boxes with pod count of 20, 22 or 24. This is the minimum per order. If you add more boxes, they won't count towards your commitment, only FOUR will. But you will get 25% discount on all pods. You can edit your pod selection at any time by going to your Keurig account.
4- At the top of the page, you'll see the frequency to schedule your delivery. Minimum is 2 weeks and the max is 10 weeks. Confirm all your selections and hit the Confirm button at the bottom.
5- This is your last step. You'll see discounts applied are 25% for the pods and 100% for the brewer. Your total cost will be for the pods only. Confirm everything and hit the Secure checkout button and complete your purchase.
How Pod Boxes Are Counted
Boxes with pod counts 20/22/24 will each count as one towards your commitment.
Boxes with pod counts 44/48 will each count as two boxes towards your commitment.
Boxes with pod counts 60/72 will each count as three boxes, while 80-96CT count as 4.
So, buying larger pod quantities helps you fulfill your commitment faster. You orders must be spread over 6 delivery period.
The Exceptions and Exclusions…
Dunkin Donuts® Original Blend Coffee 44CT and Cinnamin' Nutmeg Coffee 60CT and all variety packs count as one box/bag towards the commitment.
Auto-Delivery offer excludes illy® K-Cup® pods, and Keurig Love Blend™ Variety Pack. Cannot be combined with other offers, not valid toward gift certificates, previous purchases, non-Auto-Delivery orders, and Rewards Catalog purchases.
Can I Cancel My Auto Delivery at Any Time? What Is The Cancellation Fee?
Cancelling your starter kit auto delivery subscription can be done at any time, and you can do it yourself by accessing your Keurig account. But…
If you cancel your subscription before meeting your commitment for buying 24 boxes within the 12-month period, your cancellation fee will be the charge of the retail price of the brewer. You'll be charged the price of the coffee maker at the time you activated your subscription.
If you have completed your purchase commitment, you will continue to be on the Auto delivery program until you manually cancel. In this case, you can cancel without any cancellation fees.
Is The Starter Kit Program a Good Deal?
Is getting a free Keurig coffee maker in exchange for pod purchase commitment a good deal? For the most part, it is. But you're gonna have to do the math for yourself too.
Keep in mind that sometimes, K-Cup pods will be cheaper from other vendors even with the applied discounts. Other times, some users prefer to use refillable pods instead of buying pods continuously.
Personally speaking, as someone who consumes pods and buys them anyway, I find the deal to be very reasonable and it won't be hard to fulfill the purchase commitment. But again, I ask you to do your own math and see if its worth it to you.