Before you drink or eat anything, it is certainly important to know the ingredients of what you're about to consume. When it comes to coffee capsules and pods, we often wonder what's really inside them. We've already answered the often asked question, "is K-Cup Instant Coffee?" in a previous post. Today, the question is about Nespresso: What's inside the Nespresso capsule, does it contain any sugar or milk content?
Nespresso Capsule Ingredients
A Nespresso capsule contains 100% ground coffee. It is NOT instant, and it does NOT contain any kind of additives, no sugar, no milk. Just pure coffee.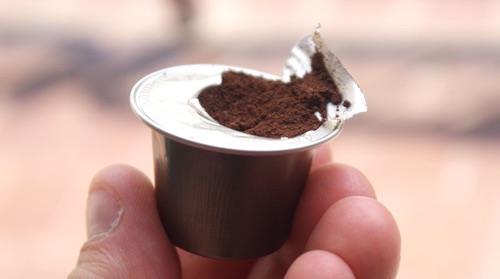 When you insert a Nespresso capsule into a Nespresso machine, with one press, you get a nice shot of espresso in under a minute. This may confuse some people into thinking that the capsule contains instant coffee for example, which is why it comes out so quickly. That's not the case, though.
Do Flavored Nespresso Pods Have Sugar In Them?
No, even if you opt for any of Nespresso's flavored pods (at least the ones from Nespresso), none of them contain any sugar or artificial flavors.
Do Nespresso Pods Have Dairy/Milk/Cream? Is It Vegan?
All Nespresso capsules are vegan, dairy free and Lactose free.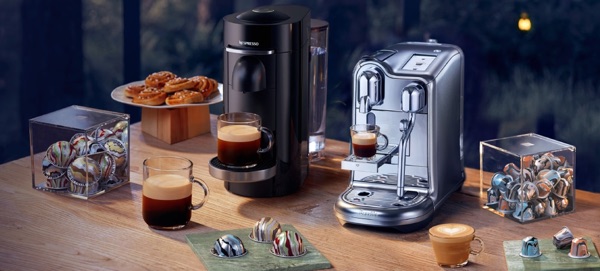 Looking at the shot of espresso pictured above, you see a think layer on top of that espresso. If you're new to the world of Espresso, you might think this is foamy milk, but it isn't. This layer is called Crema, it is produced due to the water forced through the coffee ground, which is basically how Espresso is made. Pictured above is the Essenza Mini OriginalLine machine.
Related: How much caffeine is in Nespresso Pods? full chart here.
Why Is Nespresso So Foamy?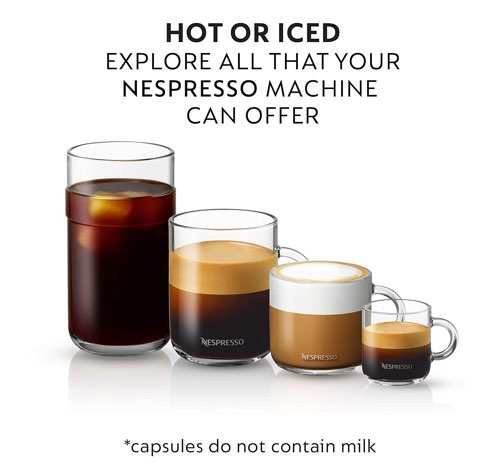 Nespresso coffee, especially that made by a Vertuo machine, does come off as foamy because it has a thick layer of crema. This is due to CentriFusion technology which rapidly pins the pods while forcing water through them, creating this tick layer.
Is Nespresso Considered Black Coffee?
Nespresso OriginalLine pods make Espresso. Vertuo pods on the other hand, are available as espresso or longer cups of 'black coffee'.
But because Nespresso Vertuo works differently than a regular drip coffee, it won't taste the same as a classic cup of coffee. You can consider Vertuo mug size pods to be black coffee, but the taste experience is definitely different.
Are There Calories in Nespresso Pods?
No, on their own, they're calorie-free. Even flavored ones. Calories count when you start adding in milk or additional flavorings. But if you drink your pods as espresso, lungo or coffee without any additives, they are calorie-free.
Making Milk Based Drinks – Cappuccino/Latte…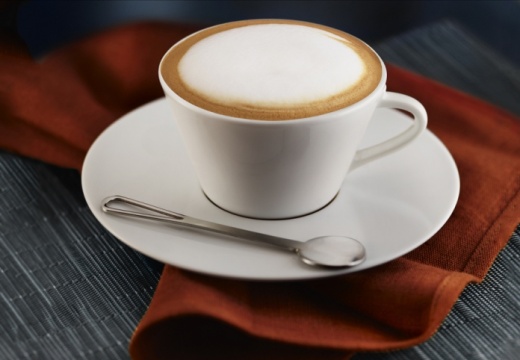 Now let's say you want to make a creamy cup of Cappuccino or Latte using your Nespresso machine, how do you do it? The Nespresso coffee capsule only makes you the espresso, which is the base of the drink you want. In order to make a Cappuccino or a Latte (or any coffee drink), you'll have to add the milk yourself, as well as any other additives or flavors you want.
Using a milk frother (an Aeroccino is recommended, although any frother will do), you'll froth your milk to your desired consistency then add it to the espresso. Here's a video explaining how to do it:
Nespresso also has some machines that automate this whole process, so the machine is able to brew the coffee, froth the milk and add it to the cup all automatically. The Nespresso Lattissima Pro is one of these awesome machines.
Here's Why We Prefer Nespresso To Other Capsule Coffee Brewers
If you like Espresso as well as other coffee drinks like Cappuccino, Latte or Macchiato, you'll probably find lots of options to choose from, Dolce Gusto being one for example. But here's why we think Nespresso is a better option:
Nespresso's capsule contains pure coffee and nothing else. This makes it a healthier option for you, you can control what you add to your coffee and make it how you like.
If we compare Nespresso to Dolce Gusto for example, when making a Cappuccino, Dolce Gusto packs the coffee in a capsule and milk in another capsule, you'll get the convenience of a single-serve but the ingredients you'll be using are not fresh. Where with Nespresso, you'll be using Fresh milk and pure coffee.
Same thing goes to K-Cups (specifically flavored, milk-based coffee drinks), a K-Cup packs everything in it including the milk, flavors and coffee, so what you'll be drinking is an artificial, powdered drink. (This does not apply to black coffee K-Cups, which contain coffee ground only).
If you want the best tasting coffee, then you'll have to make sure what you're using is fresh. This goes to the coffee as well as the milk. Some people might choose to add artificial flavorings to their coffee, but at least you'll be in control of what you add and how much of it you add.