Like most of us coffee drinkers, college students run on Coffee. As a student, having a coffee maker at your dorm room is a must. It saves you a lot of money and it ensures you get your coffee whenever you need it. The issue is that most dorm rooms are small in size, so a compact coffee maker is a requirement. How do you choose the best coffee maker for the job, then?
Let's have a look at your options for making a cup of coffee at a dorm room, assuming you will brew for one person:

Manual Brewing: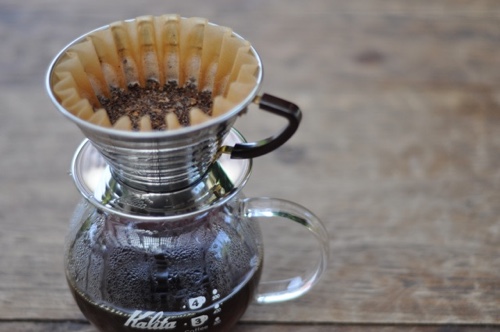 Manual coffee makers like French Press, Pour-overs or Chemex are the most compact and easiest way to make coffee anywhere. These manual tools sit at any counter top or cupboard, taking almost no space, so they make a great option for a college student. On the other side, preparing coffee manually takes more time than automatic coffee makers (especially pour over and Chemex), which might not be very convenient for a college student who's always on the run.
Automatic Single-serve Brewing: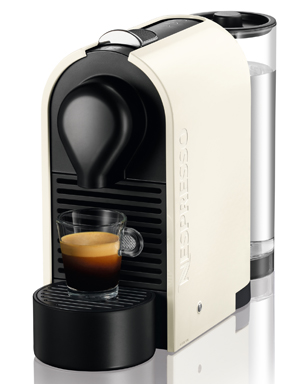 The best thing about single serve brewers is the convenience they offer any busy coffee drinker. All you have to do is press a button and you get your cup in less than a minute or two. And the best part, most of them don't require immediate clean up. Which is why we recommend this method for college students and even office users who don't have the time to prepare coffee the traditional way. There's also a number of compact single serve brewers giving you many options without worrying about the space it's going to take.
Although single-serve brewers are great, many people complain that over time, the pods that these single serve coffee makers use to brew coffee can get costly, which we understand can be an issue for a college student on a strict budget. The good news is, there are many workarounds to enjoy single-serve brewing without having to worry about purchasing pods. We'll write some tips on this below.
Best Picks for Coffee Makers for College Students/Dorms:
Keurig K15 K-Cup Coffee Maker: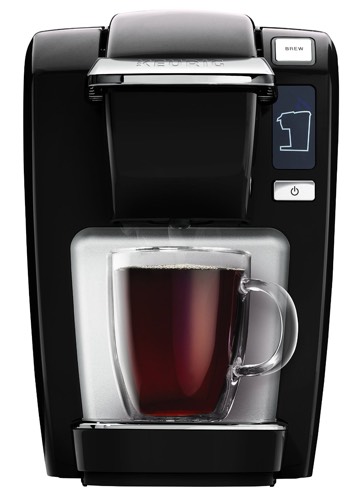 Compact single-serve coffee maker.
Brews cup sizes 6 oz, 8 oz and 10 oz.
No water reservoir. simply fill the water tank with a fresh cup at every use.
Removable drip tray allows you to accommodate cups up to 5.2" tall.
Brews a cup in under 2 minutes.
Brews anything from coffee, tea, hot chocolate and more. Compatible with all K-Cup pods.
You can also use refillable K-Cup filters to brew your own choice of coffee.
Click here to learn more about Keurig K15, read the customer reviews and buy it.
KitchenAid Personal Coffee Maker: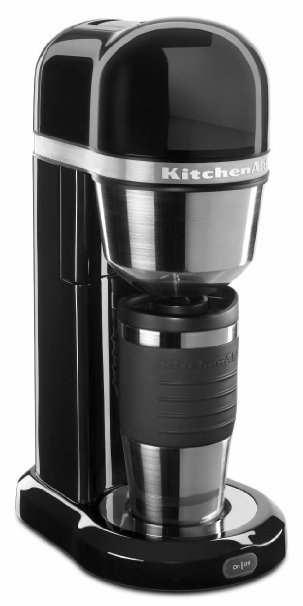 Slim and compact design.
Single serve coffee maker that uses ground coffee. No need for pods.
Can brew cup sizes up to 18 oz and accommodates travel mugs.
An 18 oz thermal travel mug is included with the machine.
Simple one-touch brewing.
Available in 4 colors.
BUNN MCU Single Serve Coffee Maker: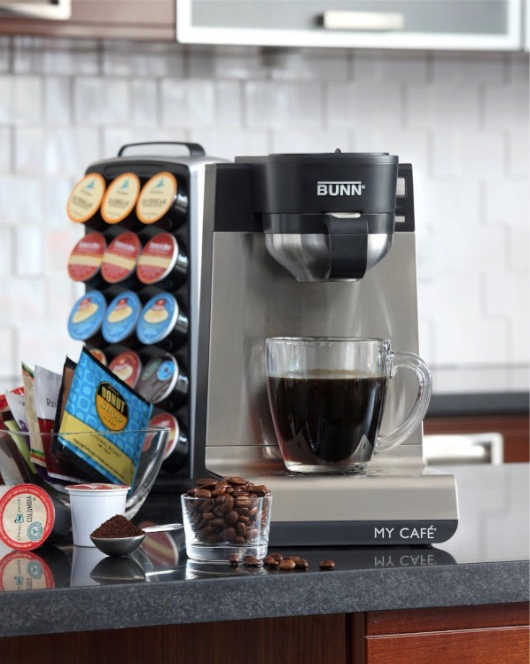 A versatile, multi-use coffee maker.
Allows you to brew K-Cups, ground coffee, tea pods or loose tea in under a minute.
Brews cup sizes from 4 oz to 14 oz.
Includes 4 attachments: cup, ground coffee, pod and hot water drawers.
Pulse Brew option extracts a bolder cup of coffee.
Nespresso Inissia Espresso Maker: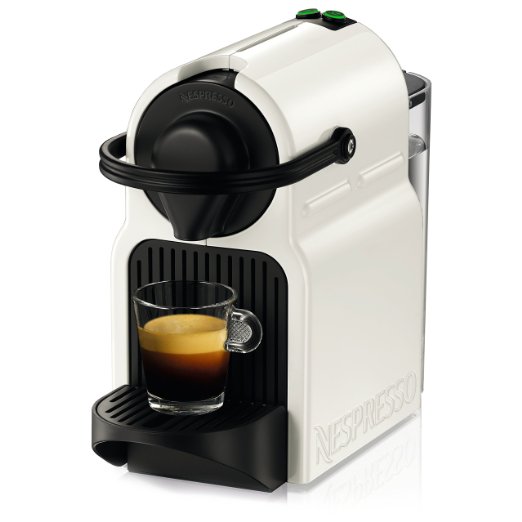 A single serve Espresso maker.
Compact in size, available in different colors.
Brews Nespresso OriginalLine capsules.
You can use Nespresso-compatible pods (cheaper alternative) or refillable Nespresso pods.
2 programmable cup sizes: Espresso or Lungo
Removable 24 oz water reservoir.
Used capsule container holds up to 11 used capsules.
You can make other coffee drinks like Cappuccino or Latte by including an Aeroccino milk frother (or using any other milk frother).
Available in many colors
How To Save On Coffee Pods While Using Single Serve Coffee Makers:
First thing to note is, not all single serve coffee makers use pods. Many models, like the KitchenAid Personal coffee maker and BUNN MCU listed above, use coffee ground just like a traditional drip coffee maker. But if you want to keep your options open and use a machine like Keurig or Nespresso, here's how you can save on your pod/capsule purchases.
Saving on Keurig K-Cups: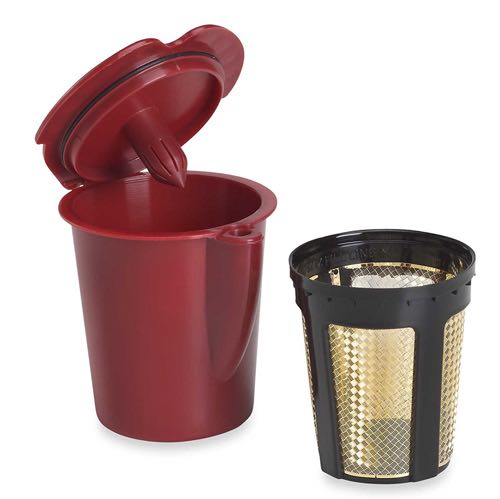 The great thing about Keurig brewers is that they can accommodate refillable K-Cup pods. These pods allow you to use your own coffee ground and reuse them over and over again. They're much like a gold tone coffee filter that drip machines use. So you can buy one or two of these filters, buy your usual bag of coffee ground and brew them using the Keurig brewer. This method saves you tons of cash on coffee pods and it is the most environmental-friendly way to use a single-cup brewer. Pictured above is a Keurig Reusable filter by SoloFill
Saving on Nespresso Capsules:
In the same way, you can buy refillable capsules for your Nespresso (OriginalLine) machine, too. These refillable capsules are not available from Nespresso officially, but from other brands, and they work perfectly. SealPod is one of the best rated reusable capsule for Nespresso.
Another way to save on Nespresso capsules is by buying Nespresso-compatible capsules. These are capsules that are made by companies other than Nespresso, but for Nespresso machines (again, this works with Nespresso OriginalLine machines only). One of the cheapest brands we've come across is Gourmesso.
Save