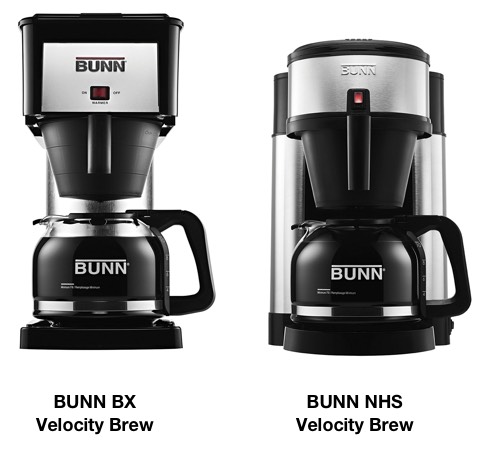 In previous posts, we've compared a number of BUNN brewers like: Velocity Brew ST vs. BT, BUNN Phase HG vs. HT, and Velocity Brew GRB vs. BXB. There's also our comparison between BUNN Velocity Brew vs. Speed Brew and BUNN vs. Bonavita. Continuing on with our comparisons, today we're having a look at two of Velocity Brew's models: BX vs. NHS and if there's any real difference between them.
Features of BUNN Velocity Brew:
Both the BX and NHS models belong to the BUNN Velocity product line, so they have the same features:
Brews 4 to 10 cups of coffee.
50 oz capacity.
Sprayhead ensures that coffee ground is fully and evenly saturated with water for the best extraction.
Internal water tank keeps water constantly heated to optimal temperature.
Quick brew time, takes about 3 to 4 minutes.
Pour-o-matic, drip-free glass carafe that eliminates mess and dripping.
Porcelain coated warming plate.
What Is The Difference Between BUNN Velocity NHS vs BX?
Features wise, there is no difference at all in how the BUNN NHS and BX work. They have the exact same features.
Design wise, the two products have slight differences. These difference also don't affect how the machines brew your coffee. They simply just look a little different.
BUNN NHS is the older model and BX was released after it.
If there's one real difference between these two models, it's where they're made:

BUNN states that their brewers models BX, GR and BT are all Assembled in the USA. What this means is that some components were imported from different origins of the world, but they were assembled in Creston, Iowa. On the other hand, model NHS was made in China.
BUNN BX vs. BX-D, What's The Difference?
BUNN BX-D Velocity Brew 10-Cup Coffee Brewer, High Altitude
Specifically designed for use in high altitude areas
Brews 4 to 10 cups (20 to 50 ounces) in about three minutes
Designed to remain on to keep the internal hot water tank heated and ready to go
Unique sprayhead ensures even, complete coffee flavor extraction
Stainless steel internal hot water tank keeps water heated to optimal brewing temperature of 200° F
Velocity Brew BX-D is made especially for use at high-altitude areas. This means that it is designed to include a special thermostat for use at 4,000 feet and above to boil the water at high temperature and keeps coffee hot enough. This model can be used at lower altitude, but other models are not suited to be used at higher altitudes. So if you live in a high altitude area, the BX-D model is the best choice for you.
Which One To Choose?
Obviously, picking one of these models isn't going to be about features since both are identical, in that sense. If you care about where your coffee brewer has been assembled and prefer something that was not made in China (you can see a bunch of NOT made in China coffee makers here), then definitely pick model BX over NHS. Otherwise simply choose whichever design looks best to you.