As any coffee lover knows, one of the most important pieces of equipment for making great coffee at home is a quality grinder. There are many different types and brands of coffee grinders on the market, but which one is right for you? In this blog post, we will compare the Baratza Vario and Sette coffee grinders to help you decide.
Comparison
Baratza Sette 270 vs. Vario, What's The Difference?
| | | |
| --- | --- | --- |
| | Sette 270 | Vario |
| Grind Settings | 30 + micro+macro adjustable steps | 10 settings, 23 macro |
| Controls | LCD display + buttons + Favorite settings | small display/no backlight + programmable buttons |
| Hopper Capacity | 10 oz | 8 oz |
| Portafilter Holder | YES + tool for holding pour over drippers | YES |
| | Check Price on Amazon | Check Price on Amazon |
Adjustable Settings:
The Sette 270 gives you 30 adjustable settings from coarse to fine (Macro steps), then for micro adjustments, you get stepless adjustments. That means you pretty much get infinite steps to experiment with.
Vario has 10 adjustments from coarse to fine and 23 macro steps, giving you a total of 230 grind settings.
Programmability & Controls:
The Sette 270 has an LCD backlit display and buttons to help you dial in your settings. There are three programmable buttons to save your favorite settings. And it has a Stop, Play/Pause and Up/Down buttons.
The Vario has a smaller display with no backlight. You get the same 3 programmable buttons to save your frequent settings. There's also a Start/Stop buttons and Up/Down for grind time.
Bean Hopper Capacity:
Sette 270: 10 oz
Vario: 8 oz
Portafilter Holder:
The Sette 270 has a built-in portafilter holder that is convertible and can be adjusted to hold a coffee brewing tool like a Hario V60, Clever Dripper, Kalita dripper an Aeropress and so.
The Vario's holder is designed to only hold a portafilter for hands-free espresso grinding.
Design:
The Sette 270 has a more modern design that is new to Baratza. The design is inspired by its name, Sette, which means Seven in Italian. The profile of the Sette 270 is designed to look like the number 7.
On the other hand, the Vario has the classic Baratza look. A nice thing about this classic look is that it's easier to see the adjustable steps on it than on the new design of the Sette 270.
Baratza Sette 270W vs. Vario-W, What's The Difference?
The Sette 270W and Vario-W both use weight-based dosing. However, the weighting method is different in each model:
The Sette 270W uses Acaia's advanced technology, which is known for its Bluetooth electric scale. Sette 270W's scale is also Bluetooth powered, and it allows you to monitor and log your weight and grind sessions.
Vario-W has a built-in scale as well, and it allows you to do weight based dosing just like the Sette 270W. However, it lacks the Bluetooth capability.
Similarities Between Sette 270 and Vario
Suitable for both espresso and pour-over coffee
Both have Macro and Micro grind adjustments, although the exact steps in each model vary.
Anti-static ground bins – these are great for keeping ground coffee from flying around or forming clumps of coffee inside the bin.
Programmable favorites is available in each model. This is fantastic because once you've found a grind setting that's perfect for your choice, you can revisit simply by pressing a button.
Features of the Baratza Sette 270
40 mm conical burrs grind coffee at 3.5g to 5.5 g/sec. depending on the setting.
LCD display allows you to dial in your settings.
Three programmable buttons allow you to save your favorite and most frequently used settings.
Grind adjustment perfect for every brewing method, from espresso to manual brewing.
Macro adjust of 30 steps.
Stepless micro adjust with 9 indicators. This allows you to fine-tune your grind settings for espresso.
Sette 270 allows for minimal left-over ground in the grinder after use, which preserves freshness for next use.
Convertible holder allows you to hold a portafilter, included ground bin, or a brewing tool like a V60, a Kalita dripper, a Clever dripper, an Aeropress… etc.
Included ground bin made from anti-static plastic.
Coffee hopper holds up to 300/400g of coffee (10 oz).
Ground bin capacity: 160g (5.5g)
Baratza Sette 270 vs. 270W, What's The Difference Between Them?
The Baratza Sette 270W has everything the 270 has. But it has one extra feature: Weight-based dosing.
The Baratza Sette 270W uses Acaia's weighting technology to grind by weight directly into a portafilter. It also has Bluetooth capabilities that allows you to monitor and track your grind sessions, weight and settings.
This grinder, with its wide range of grind settings, ensures that you get the perfect cup of coffee each and every time. The front-mounted control panel is easy to use, and you can program the buttons to set your desired grind time within 0.01 seconds. Plus, you can save up to 3 different dose preferences!
With its quick-accessible cleaning and maintenance process, this grinder makes it easy to keep your coffee beans fresh all day long. It also allows you to go from grinding into your portafilter to grinding into many pour-over tools like a V70 cone or a Kalita Wave.
So whether you need a grinder for espresso or other brewing methods, the Sette 270 does it all.
Unboxing and Setup of the Baratza Sette 270:
Features of Baratza Vario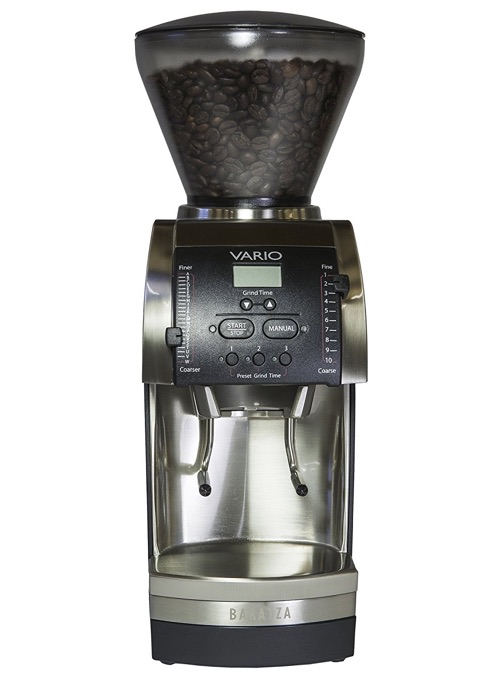 Bean hopper capacity: 8 oz, grounds bin capacity: 6 oz.
10-step adjustment, 23 micro steps, total of 230 grind settings.
Three programmable buttons to save your frequent settings
Works for espresso and other manual grind settings.
Portafilter holder for handsfree grinding.
With 230 grind settings, the Vario can handle any brewing method you want to use. Whether you're an espresso lover or prefer a French Press, the Vario has you covered. However, unlike the Sette, it can only allow for portafilter handsfree grinding.
The ceramic burrs are durable and produce precise ground particles, so you can explore all the great flavors of coffee.
Review of Baratza Vario:
Which Grinder Should You Buy?
First thing I want to start with is to give you the heads up, which I can only imagine you already know, all of these grinders come with a learning curve. Especially if you are new to the world of conical burr grinders, espresso making or pour-over. Expect a few misses before you finally get the correct grind and dose.
Now we got that out of the way, which one to pick depends on what you need:
If you need a grinder for espresso only, Vario can do a lot of you. Especially if you're a beginner and don't want to feel overwhelmed with many options. You'll still be able to do medium to coarse grinds, and it gives you enough steps to achieve good fineness for espresso brewing.
Sette is a bit advanced, could get overwhelming for a beginner, but also it can be great if you want something that you can 'grow into'.